Roof Access Hatches
Providing safe & easy access onto the roof from inside the building
Industrial and Commercial Roof Access Hatches 
A roof hatch allows for convenient and safe access and egress to rooftop areas from inside the building or ceiling space. When correctly installed with adequate safety systems, a rooftop hatch can provide a safer and shorter route for workers reducing their exposure to the risk of injury.
Anchor Safe is highly experienced in the design and implementation of roof access hatches and supporting safety systems including ladders, stairways and guard railing to ensure compliance with strict height safety regulations. Our hatches are highly cost-effective, maintenance-free and available across Sydney, Melbourne, Brisbane, Albury, and their surrounding regions.
For more information on roof access hatches or to organise a free quote, contact our friendly team
Skydore Access Hatches 
Skydore roof hatches are simple to operate and provide safe & easy access for personnel and equipment from inside the building. These hatches are lightweight and user-friendly with soft close mechanisms, single-handed internal locking levers, and maximum opening sizes to facilitate workers with tools and equipment to exit safely.
Skydore hatches are locally manufactured from galvanised sheet steel and structural grade aluminium with the option for a powder-coated finish to minimise visual impact. Available in hinged and sliding variants and manufactured to the highest quality standards, our roof hatches come backed by our 10-year product & installation warranty.
Hinged Roof Access Hatch Features:
Hatch opening clearance: 1000 x 800mm

Full 90° unrestricted opening for ease of access

Insulated dual skin construction limits noise and thermal transfer 

One hand-operated internal handle for ease of use whilst opening and closing

Gas strut-assisted opening and closing, suited to high-frequency usage

Zincalume construction and high-strength hinges provide low maintenance and trouble-free use. 

Options for tray deck or corrugated roofs with simple installation and flashing kits

Optional locking Function with push lock and keys 

Easily incorporated with Vista Fold Down Access Ladder System
Sliding Roof Access Hatch Features:
Sliding lid functions safely even in windy conditions – perfect for multi-story buildings.

Precision bearing assisted slides provide effortless movement for safe opening and closing

Unrestricted opening with the hatch lid out of the way for safe and easy material handling

Manufactured with an aluminium frame and zincalume shell, the cantilevered lid is extremely robust. 

EPDM Seal provides weatherproof protection

Opening size options; 1000mm x 722mm, 1200 x 920mm or 1500 x 920mm

Options for tray deck or corrugated roofs with simple installation and flashing kits

Dual locking Function including push lock and padlock tabs.
Unsure about which hatch is right for your access needs? Speak to the experts!
Vista Ceiling Hatch With Fold-Down Ladder 
Where space is limited, a ceiling hatch with an integrated lightweight fold-down ladder can be installed to provide safe and compliant access to the ceiling space and beyond to the rooftop. 
The Vista range of commercial fold-down ladders and ceiling hatches provides a space-efficient solution for ceiling and rooftop access. When not needed these folding ladders are stored neatly in the ceiling leaving the floor space to be clear for normal activities.
Vista fold-down access ladder systems are designed to integrate seamlessly with Skydore roof access hatches, providing convenient and safe through-ceiling access to the roof deck.
Vista Fold Down Access Ladder System Features
Suitable for ceilings up to 4.3m in height

Manufactured from high-grade structural aluminium with options for powder coating.

Industrial rated 150kg safe working load

Soft closing mechanism, suited to frequent use

Designed to comply with requirements of Australian Standard AS1657:2018

Suitable for suspended ceilings
Roof Access Hatch with Fixed Ladder or Stairway 
For warehouses and industrial buildings, Anchor Safe can design and install a custom fixed ladder or stairway solution to enable safe and compliant access to a roof hatch. Fixed access systems provide an advantage in minimal maintenance and inspection requirements and are more cost-effective compared with fold-down options.
Speak to our expert height safety team for advice on which ladder and access hatch combination is right for your application.
Access Hatch Guardrails 
Roof access hatches can be an efficient & quick way to access a roof, but as with any void, create an inherent fall risk that needs attention. Anchor Safe highly recommend installing an Access Hatch Guardrail Kit, which is designed to provide fall protection around a roof access hatch when accessing or egressing the roof. 
The roof hatch guardrail provides edge protection around the opening of the hatch while also serving as a grab rail for workers, ensuring safe transitions to and from the ladder. An optional self-closing gate can be mounted to the access opening to ensure utmost safety is upheld. Guardrail kits can be mounted to various roof profiles including concrete and metal deck.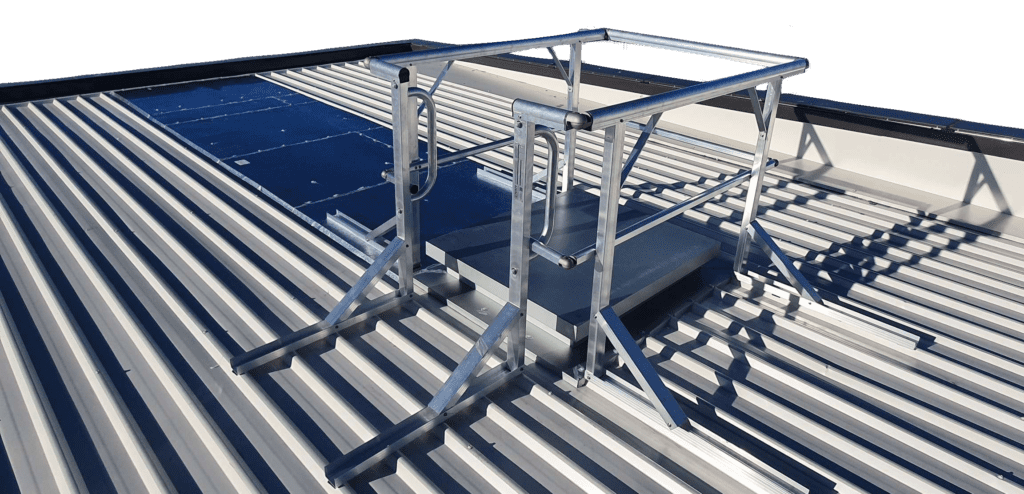 About Anchor Safe
Anchor Safe is a proven and respected name in accredited height safety across Australia. Driven by a dedicated team of highly experienced height safety specialists, Anchor Safe is the 1st choice of Councils, Facility Managers, and Retail to ensure they meet safety compliance standards and their rooftops are kept safe.
Browse our full range of height safety products to meet all your needs, including:
Roof Walkways Systems
Harness Gear & Rescue Equipment
Roof Access Ladders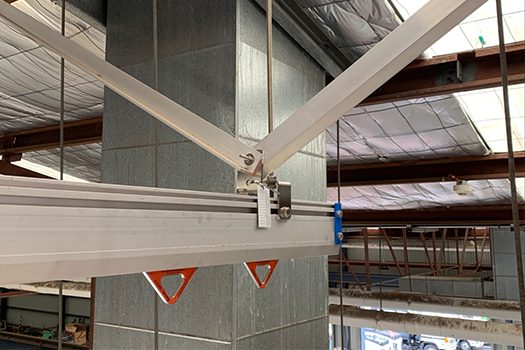 Overhead Rail Systems
Roof Access Hatches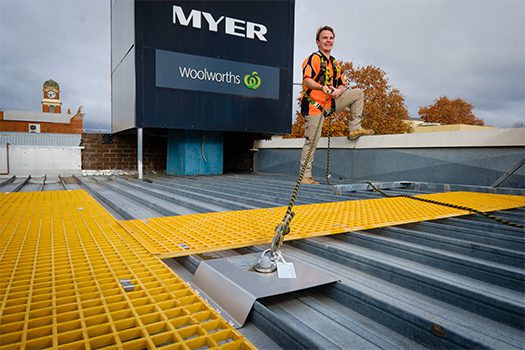 Roof Anchor Points
Permanent Roof Guardrail Systems
Skylight Protection
Static Line Systems
Stepladders & Stairs