Plant Platforms
Fundamentally increasing the ease of access to plant and equipment
Plant Platforms are not only essential for construction sites and Industrial environments but fundamentally increase the efficiency of access.
Plant Platforms are customised to your exact specifications and individual needs using high-quality aluminum and designed to comply with the relevant requirements of AS/NZS 1657.
Plant Platforms are most commonly used for access to machinery and elevated equipment to enhance the process of inspection and maintenance. This allows for safe access for all employees working at heights and reduces the weight loads on roofs allowing heavy objects such as air-conditioning to be housed without causing any damage to the surface of the roof.
Plant platforms are used when rooftop areas require regular and ongoing maintenance. Platforms are designed to provide stability and grip allowing workers to carry out repairs and maintenance in confidence.
We understand that not all work sites are the same, and that's where our custom-made plant platforms come in. Not only can they be designed to your specifications, but they are also able to withstand heavy loads and can be built for high portability. Plus, as all our platforms are compliant with recommended AS/NZ standards, they are ideal for any construction site or building and adds value to the health and safety of its workers.
We supply, install and maintain plant platforms in Melbourne, Sydney, and Canberra.
Other uses:
Our plant platforms have many different features that enable them to perform in a wide range of environments. Their lightweight aluminium construction is strong, very low maintenance, and non-corrosive making it suitable for internal or external use.
In cold environments, such as a food processing plant, these areas often require access platforms to access chillers etc. These platforms are treated with an anti-slip coating, eliminating any further risk of injury. Anchor Safes Roof Access Platforms ensure the long-term durability and Integrity of your roofing system.
Some common uses of plant platforms include:
Reaching HVAC systems for essential servicing
Attend to jobs that are otherwise inaccessible at height (including windows and access points)
Access from one level to another
An accelerated route through an industrial or construction site
Reducing or spreading weight loads on the surface of roofs
Features of our industrial plant platforms:
Our industrial plant platforms have various features which help ensure your workers are safe and comfortable on the job. They include:
Easy access and a high level of safety
Purpose designed and built to suit your application
Modular design for simple on-site delivery and assembly
Lightweight, robust aluminium construction which ensures the flat platform is both durable and easy to carry.
Fully compliant to Australian Standards AS 1657
The plant platforms are specially designed to increase the durability of your roofs protecting against damages and roof leaks
Keep your team safe while working at height
Workers who regularly operate at height, whether on roofs or fixing machinery, will benefit from being able to safely and easily manoeuvre using bespoke industrial safety platforms. Workers need confidence when operating at heights, Anchor safes platforms boost confidence levels at all levels.
If you're looking for the safest and most reliable plant platforms to help your team access a range of equipment at heights, why not get in touch. We are ready to find the best quality solution for your needs.
Every height safety equipment item we supply, including stairs, stepladders and platforms, are custom-built to specifications and fully compliant with AS/NZ standards.
Browse our full range of height safety products to meet all your needs, including:
Roof Walkways Systems
Harness Gear & Rescue Equipment
Roof Access Ladders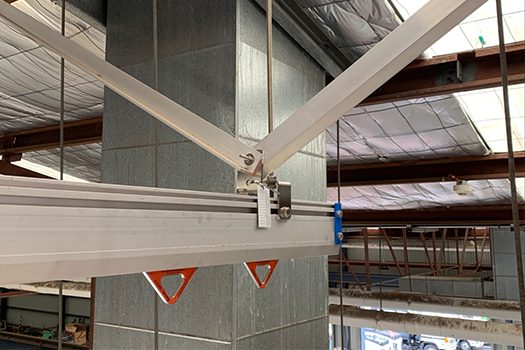 Overhead Rail Systems
Roof Access Hatches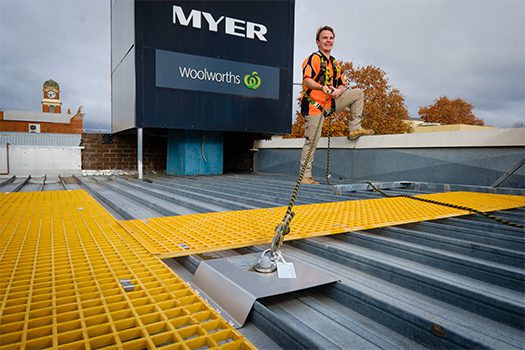 Roof Anchor Points
Permanent Roof Guardrail Systems
Skylight Protection
Static Line Systems
Stepladders & Stairs