Skylight Protection
Lightweight, high-strength aluminum skylight protection
Anchor Safe provide customised solutions for the protection of workers from the hidden dangers of skylights, transparent roof sheeting, and rooftop atriums.
Our experienced height safety technicians can design, supply and install skylight protection in Sydney, Melbourne, Brisbane, Albury and their surrounding regions. Skylight protection is available as a standalone system or as part of a comprehensive height safety system and compliance management service.
Every Anchor Safe skylight protection system is designed to suit the specific needs of your site by our experienced and highly trained height safety specialists. We're confident in the quality of our work, so all our height safety systems come backed by our 10-year product & installation warranty
For more information on skylight protection or to organise a free quote, contact our friendly team
Skylight Protection
Skylights of all varieties, including transparent roof sheeting, stand-alone skylights or roof lights, and rooftop atriums present a potentially deadly fall hazard to rooftop workers. Appropriate skylight protection is an essential element for all roof safety systems. 
Skylight protection is installed to prevent personnel working on the rooftop from falling through vulnerable areas, without diminishing the skylight's ability to allow light into the building below. Skylight protection will also protect vulnerable roof sheets, skylights, and atriums from severe weather such as hail and airborne debris.
.
Skylight Protection Features:
Fully compliant with all relevant Australian height safety standards

No reduction in light penetration or visibility

Locally designed and manufactured from high strength industrial grade aluminium

Non-corrosive, maintenance-free componentry

Prefabricated modular systems – ensures simple, rapid installation. 

Neat appearance with options for powder coating to match surrounding structures
Skylight Fall Protection Covers
Skylight fall protection covers are constructed from high strength, non-corrosive, aluminium lattice. A skylight fall protection cover will prevent a person from falling through the roof should they accidentally step, trip or fall onto a skylight, roof-light, or transparent roof sheeting. 
Skylight fall protection covers are a cost-effective and user-friendly solution to the hazards of skylights and transparent roofing. Anchor Safe's experienced system designers can advise, supply and install skylight protection covers to protect your workers and ensure all height safety obligations are met. 
It is not safe to walk on skylight protection covers. If used as a walkway the cover may flex or bend and apply pressure to the fixings, potentially causing roof leaks in the future. A roof walkway crossover system should be installed to eliminate any need to walk on the skylight covers. 
Easily visible & clear signs alerting the workers of the potential danger of falling through fragile roofing and installing a Guardrail and walkway system is a great way to highlight the path workers should take instead of walking on the protection covers or other dangerous parts of the roof. 
Skylight Cages
A skylight cage is a raised cover used to protect rooftop workers from the fall hazard of standalone skylights. Skylight cages are manufactured from high strength aluminium lattice and may require a sturdy aluminium frame depending on the size of the skylight. 
Anchor Safe offers a range of prefabricated modular skylight cages and custom-built solutions for meeting height safety requirements for skylights and keeping rooftop workers safe. Skylight cages offer a cost-effective and efficient solution to skylight safety.  
Our team of height safety specialists can advise, supply, and install skylight cages to ensure your rooftops are safe and compliant.
Skylight Protection Systems
In order to comply with strict Australian standards, codes, and regulations a skylight protection system will require proper safety signage and may require walkways, skylight crossovers or bridging and guardrails.
Safety Signage 
Adequate safety signage will be necessary to warn rooftop workers of any potentially hazardous rooftop surfaces that could result in a fall, even when protected by skylight mesh. Safety signage must be maintained and replaced to ensure its visibility. Failure to properly sign a hazard will leave the building owner or business liable for any injury to workers
If external roof access stairs are located in an unsecured area, measures must be taken to prevent unauthorised access. Fencing or enclosures should be designed and installed when necessary to meet safety standards and ensure the security of the structure.
Roof Walkways and Skylight Crossovers
Where fall hazards such as skylights and transparent roofing exist, dedicated roof walkways should be installed to provide a safe and secure route for rooftop workers that minimises their exposure to risk. Skylight crossovers or bridging can be installed where necessary to cross over potentially hazardous areas.
Guardrails
For larger skylights and rooftop atriums, roof guard railing may be a necessary component for preventing access to these potential fall hazards. A well designed and compliant guardrail system is one of the safest ways to protect workers from accessing an edge or void, minimising the dangers of falling from heights.
About Anchor Safe
Anchor Safe is a proven and respected name in accredited height safety across Australia. Driven by a dedicated team of highly experienced height safety specialists, Anchor Safe is the 1st choice of Councils, Facility Managers, and Retail to ensure they meet safety compliance standards and their rooftops are kept safe.
Browse our full range of height safety products to meet all your needs, including:
Roof Walkways Systems
Harness Gear & Rescue Equipment
Roof Access Ladders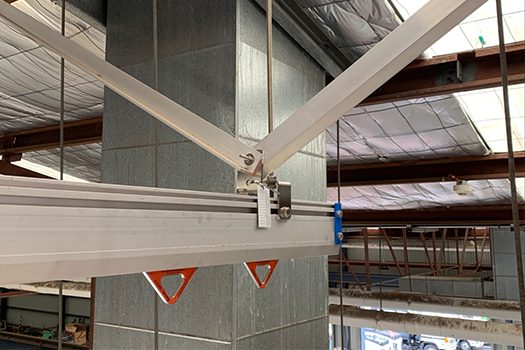 Overhead Rail Systems
Roof Access Hatches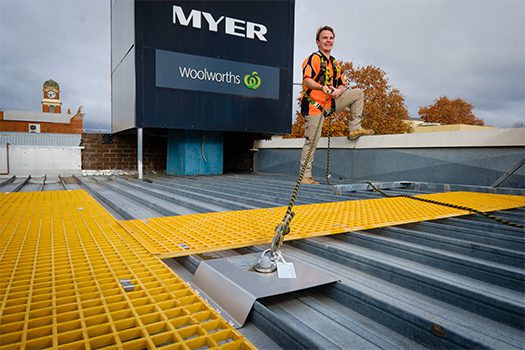 Roof Anchor Points
Permanent Roof Guardrail Systems
Skylight Protection
Static Line Systems
Stepladders & Stairs