Overhead Rail Systems
Continuous and effective free moving fall protection
Overhead Fall Protection Systems
Anchor Safe is Australia's leading provider of overhead fall protection systems, offering comprehensive design, installation, and certification services.
Our expert teams in Melbourne, Albury, Sydney and Brisbane can advise on the right location and install a customised overhead rail & davit system for your application.
Anchor Safe height safety systems meet or exceed all relevant Australian standards, codes, and guidelines. Experienced and independent, we pride ourselves in our quality workmanship, premium quality components, and cost-effective solutions all backed by our 10-year product & installation warranty.
For more information on Overhead Rail & davit systems or to organise a free quote, contact our friendly team.
Features include:
Fully compliant with all relevant Australian standards. 
Minimal deflection during a fall 
Suitable for fall arrest and abseil (rope access)
Uninterrupted freedom of movement for multiple workers
Manufactured in Australia with high-grade aluminium & stainless steel 
Mounting options to suit a variety of surfaces and applications 
Neat and unobtrusive, with an option for powder coating
Brands we supply and install include:
Sayfa Raptor Rope Access Needle  
RAPTOR Rigid Rail Safety Systems
RAPTOR Overhead Rail is a proprietary fall arrest and rope access system designed and built by Australian height safety system manufacturers SAYFA.  
The system comprises a high strength but low weight aluminum rail or track, able to span up to 6 meters between structural supports. Inside the track is a robust sealed bearing trolley with lateral stabilizing bearings providing effortless freedom of movement for up to 4 simultaneous users. 
Raptor Overhead Rail is designed to comply with Australian Standards  AS/NZS1891.2:2001, AS/NZS1891.4:2009 and relevant statutory OHS Codes of Practice/Guidelines.
Anchor Safe is a certified preferred installer for SAYFA RAPTOR Overhead Rail systems. Contact us for more information or a free quote.
Overhead Rail Systems for Fall Arrest
An overhead rail fall arrest system provides effective unrestricted fall protection for multiple users above a work zone.
When used as an overhead fall arrest system in conjunction with an inertial reel or retracting lifeline, the overhead rail system ensures the user remains in a fall restraint position at all times and the risk of mid-air suspension is reduced.
As an overhead system, the rail can be mounted to purlins, metal or concrete decks and ceilings or side-mounted on a wall. This provides compliant height safety for users where other fall arrest systems may be impractical or otherwise impair the versatility and efficiency of the worker.
Overhead Rail Systems for Abseil and Rope Access
A rigid rail system provides effortless mobility and higher levels of safety for abseil or rope access operations. Providing access to exterior windows and facades of multi-level buildings for safe and rapid access to "out of reach" areas for cleaning and maintenance.
An abseil overhead rail system enables the user to access large areas of the façade with ease without the need to disconnect or reconnect. The ropes can remain connected to the trolleys and simply be moved anywhere along the length of the rail. This not only increases safety but saves time and money on rope access cleaning and maintenance services
Raptor Davit Arm Systems 
RAPTOR Davit Arms are designed as a cantilevered anchorage device over balustrades, parapets and curtain walls for rope access work where workers are required to maintain building facades and equipment mounted on the external face of a structure. RAPTOR davit systems are an engineered single person device, designed to withstand a 12kN rope access load or safe working load of 400kg.
Rope access needle systems 
RAPTOR Needles are designed as a rope access anchorage device where access over non load bearing parapets, balustrades and light weight curtain walls is required. Rope access is commonly required for building inspections and general maintenance of external facades, windows and equipment that cannot be accessed from a platform or enclosed safety system.
Maintenance and Recertification
In accordance with the manufacturer's instructions and Australian standards, Overhead rail systems will require maintenance and recertification every 12 months.Our dedicated team of accredited height safety technicians can inspect, maintain and recertify all height safety systems as a one-off or as part of our comprehensive height safety compliance management plans to ensure compliance and worker safety.
About Anchor Safe
Anchor Safe is a proven and respected name in accredited height safety across Australia. Driven by a dedicated team of highly experienced height safety specialists, Anchor Safe is the 1st choice of Councils, Facility Managers, and Retail to ensure they meet safety compliance standards and their rooftops are kept safe.
Browse our full range of height safety products to meet all your needs, including:
Roof Walkways Systems
Harness Gear & Rescue Equipment
Roof Access Ladders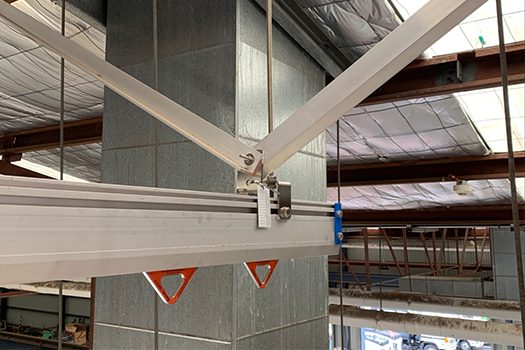 Overhead Rail Systems
Roof Access Hatches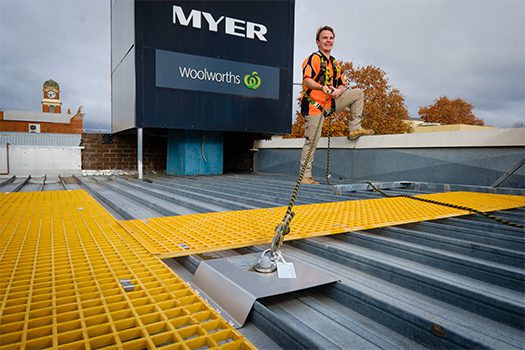 Roof Anchor Points
Permanent Roof Guardrail Systems
Skylight Protection
Static Line Systems
Stepladders & Stairs