Overhead Rail Systems
Continuous and effective free moving fall protection
Our overhead rail systems are proprietary abseil and fall arrest systems, designed for multiple users.
They provide continuous and effective fall protection and are used when working above machinery or equipment or for façade access for general maintenance and cleaning.
Anchor Safe overhead rail systems can be installed on a variety of structures, such as structural steelwork, roof purlins, metal roof decks, and concrete structures.
Our teams in Melbourne, Canberra and Sydney are able to help you determine the best location to install one of our overhead rail systems to ensure the safety of all your employees.
When used as an overhead fall arrest system in conjunction with a retracting lifeline, the overhead rail system ensures the user remains in a fall restraint position at all times and the risk of mid-air suspension is reduced.
When used as an abseil system it eliminates the need to connect and reconnect to individual anchor points. The ropes can remain connected to the trolleys and simply be moved anywhere along the length of the rail.
Benefits include:
Uninterrupted, smooth functionality
Minimal deflection in the rail system during a fall
Increased number of users per rail system
Neat and unobtrusive, with an option for powdercoating
Overhead rail products we supply:
Raptor
Edge
Raptor Groove
AnchorSafe can maintain and recertify overhead rail systems, contact us today!
Browse our full range of height safety products to meet all your needs, including:
Roof Walkways Systems
Harness Gear & Rescue Equipment
Roof Access Ladders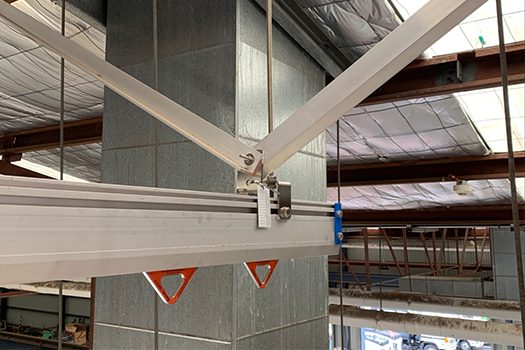 Overhead Rail Systems
Roof Access Hatches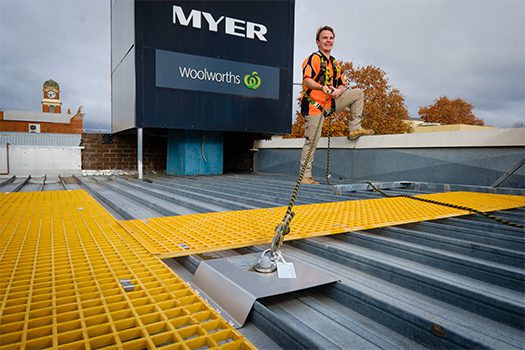 Roof Anchor Points
Permanent Roof Guardrail Systems
Skylight Protection
Static Line Systems
Stepladders & Stairs