Permanent Roof Guardrail Systems
A well designed and compliant guardrail system is one of the safest ways to protect workers
The Leaders In Edge Protection Systems
Anchor Safe is Australia's leading provider of permanent edge protection systems, offering comprehensive system design, guardrail installation, and height safety certification services. Anchor Safe roof guardrail systems are highly cost-effective, maintenance-free and available across Sydney, Melbourne, Brisbane, Albury, and their surrounding regions.
Every Anchor Safe roof guardrail system is designed to suit the specific needs of your site by our experienced and highly trained height safety specialists. Our expert team of accredited installers will install and certify your system to ensure you meet all relevant Australian height safety standards. We're confident in the quality of our work, so all our height safety systems come backed by our 10-year product & installation warranty
For more information on roof guardrail systems or to organise a free quote, contact our friendly team
Cost-Effective and Compliant Safety Guardrails 
Roof safety guardrails are the most recommended fall protection system in the hierarchy of control measures. A well-designed and compliant guardrail system is one of the safest ways to protect workers from accessing an edge or void, minimising the dangers of falling from heights. Roof guardrail systems are exceptionally user-friendly and require minimal maintenance. We always recommend the installation of roof safety guardrails whenever the site is suitable, in accordance with the Work Health and Safety Act 2011.
Anchor Safe exclusively uses Sentry products in our guardrail systems. Sentry guardrails are designed and manufactured in Australia by Sayfa Group and are tested to meet and exceed Australian height safety standards.
Guardrail Features:
Fully compliant with all relevant Australian height safety standards including AS 1657:2018
Prefabricated modular system – ensures simple, rapid installation. 
Fully adjustable/adaptable fixtures & fittings – no on-site welding required. 
Suits a variety of mounting applications and surfaces. 
Minimal componentry – cost-effective, reduced on-site labour and minimal maintenance. 
High-strength aluminium construction – lightweight and user-friendly. 
Unobtrusive appearance – with an option for powder coating to blend in with surroundings.
Roof Guardrail Installation
Anchor Safe's roof safety guardrail systems are installed by our certified installation team, ensuring all components meet stringent safety standards. Our highly trained team has the experience and skills to install guardrails in a range of situations on almost any surface and pride themselves on maintaining the highest standards of workmanship and professionalism. Our guardrail systems can be installed as edge protection along fall edges, on platforms and around access hatches, stairways and skylights. 
Our guardrail systems are easily integrated with our high-quality aluminium and FRP (Fibre Reinforced Polyester) roof walkways. The modular fittings, fixtures and mounting options of the Sentry guardrail system enable easy integration with or upgrades to your existing height safety systems.
 We can help you determine the best height safety system for your rooftop that considers your budget and future access needs. 
How much does it cost to have a permanent roof guardrail system installed?
Our roof guardrail systems are priced per meter with certified installation by our team included as standard. Pricing for our guardrail systems is highly dependent on a number of factors including: 
The location of your building or work site.

The complexity of the installation process.  

Whether or not you would like the guardrails powder-coated in a colour of your choice. 

Whether the guardrails are part of a total roof safety system including any necessary

Walkways

,

Anchor Points

or

Access Ladders

.
Every site is unique and where some sites may need 30 meters of guardrail, some may only need 3 meters of guardrail to protect the fall edge at the point of entry.
Consult with the professionals
Customised guardrail systems designed, installed and certified. Reach out to us and have our expert team provide a free quote for your property.
Why Choose Us?
We understand the nuances of guardrail installation in accordance with AS 1657:2018, ensuring accuracy in every detail.

We're trained and experienced in spotting potential hazards that others might overlook.

Proper installation of a quality and compliant system will provide long-term safety and compliance with minimal ongoing costs.

We stay informed about any changes or updates to the standards to give our clients ongoing confidence in their compliance.

We genuinely care for the safety of workers and we're committed to keeping workers and rooftops safe, always.
About Anchor Safe
Anchor Safe is a proven and respected name in accredited height safety across Australia. Driven by a dedicated team of highly experienced height safety specialists, Anchor Safe is the 1st choice of Councils, Facility Managers, and Retail to ensure they meet safety compliance standards and their rooftops are kept safe.
Browse our full range of height safety products to meet all your needs, including:
Roof Walkways Systems
Harness Gear & Rescue Equipment
Roof Access Ladders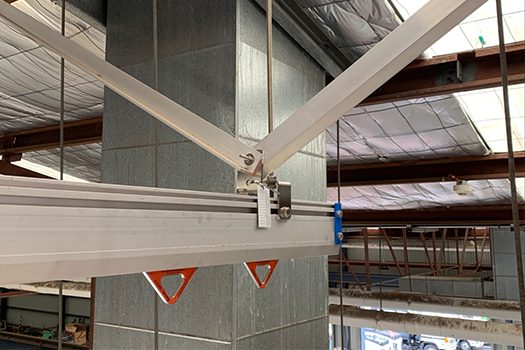 Overhead Rail Systems
Roof Access Hatches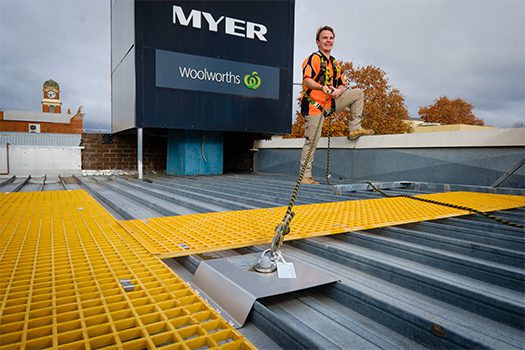 Roof Anchor Points
Permanent Roof Guardrail Systems
Skylight Protection
Static Line Systems
Stepladders & Stairs