Roof Anchor Points
Anchor points are a vital part of a fall protection system
Experts in Anchor Point System Design, Installation, and Certification
Anchor Safe is Australia's leading provider of roof safety anchor point systems offering comprehensive design, installation, maintenance and certification services to ensure your rooftops are compliant and workers are kept safe!
Roof safety anchor point systems are a common and cost-effective solution to maximise the safety of people working at heights. A well-designed system will provide free and easy movement around rooftops whilst ensuring workers are securely connected with a lanyard and harness. Anchor Safe offers a range of fall arrest and abseil anchors to suit any application and meet your height safety needs.
All our roof anchors meet or exceed the requirements of AS1891.4, AS5532 and AS4488 regulations. Experienced and independent, we pride ourselves in our quality workmanship, premium quality roof anchor points and cost-effective solutions all backed by our 10-year product & installation warranty. Anchor Safe install, maintain, recertify and manage compliance of roof safety anchor points in Sydney, Melbourne, Brisbane, Canberra and their surrounding areas.
Our anchor point systems offer many benefits:
Simple retrofit design, fall arrest rated
Cost-effective, low visual appearance
Advanced energy-absorbing properties
Simple installation and low profile systems
Watertight seals

Anchor Point Testing, Certification and Maintenance
It's better to be safe than sorry. If you're not sure your anchor points are compliant or if they haven't been tested for a while, we'd be happy to get a member of the Anchor Safe team out to your site to inspect and test your anchor points to ensure they're compliant with the appropriate Standard.
Anchor Safe is Australia's leading provider in scheduled maintenance and recertification services.  We manage your height safety compliance, providing you with easy-to-use online asset management tools that keep you in the loop and taking the pressure off you.
Types of Roof Anchor Points
Permanent Roof Safety Anchor Points
Permanent roof safety anchor points are a cost-effective and easy to install component found in many of our height safety systems. The addition of permanent roof anchor points is ideally suited to our clients that require regular maintenance such as skylight cleaning, solar panel care, gutter repairs or access for contractors. 
The use of a permanently mounted fall restraint anchor point system allows workers to safely work along the fall edge, securely restrained by a tether and harness. Permanently mounted fall arrest anchor point systems are capable of withstanding the forces of arresting a fall and are certified for use in abseil or rope access work.
Anchor Safe's installation professionals have been extensively trained in anchor point mounting solutions to comply with AS/NZS 1891 – Industrial fall-arrest systems and devices. As part of the installation, Anchor Safe supplies installation certificates and manuals as required by AS/NZS 5532.
Surface Mount Roof Anchor Points
Surface Mount Anchor Points are commonly used on metal clad roof areas. Easy to install and can be used on most metal roofs. These are versatile and are attached directly to the rooftop with 2 x 14G Stainless Screws into the substructure and 8 x 8mm Bulb Tite Rivets into the roof membrane.
Concrete Mount Roof Anchor Points
Designed to be fixed into concrete surfaces either through chemical fix or a torque anchor. This anchor point is more subtle than regular mounts. Commonly used on concrete roofed high-rise buildings for abseil use or fall arrest/restraint.
Roof Anchor Points for Tiled Roofs
Tile roof anchor points are easy to install and unobtrusive. These specialised roof anchor points incorporate unique energy absorbing properties allowing the product to be fixed to timber rafters with the attachment point to protrude below the tile. This means no holes in the tile and no waterproofing issues. 
Anchor Safe's supplies tile roof anchor points that are a one-piece profiled unit with mounting compatibility to suit most timber truss/tiled roof constructions. These anchor points can also be easily powder coated to blend in with surroundings to maintain the aesthetics of the building.
Correct installation of anchor points on your tile roof will enable safe and compliant access. Speak to our team for more information.
Temporary Roof Anchor Points
A temporary anchor point can be used when there are no permanent anchors installed. Temporary roof anchors allow the user to fix the product to a wide range of surface types, providing the flexibility to complete the job safely without having to install permanent anchor points. Temporary roof anchor points are commonly used for one-off jobs. For regular maintenance or ongoing work, permanent anchor points or a guardrail and walkway is recommended.
Temporary roof anchor points are not suitable for abseil. The selection and installation of temporary anchors need to be carefully considered and must be performed by suitably qualified and experienced professionals. The manufacturer's instructions must be strictly adhered to and if there is any doubt as to the strength of the structure it must be assessed by a structural engineer.
Shop our temporary roof anchor points
Browse our full range of height safety products to meet all your needs, including:
Roof Walkways Systems
Harness Gear & Rescue Equipment
Roof Access Ladders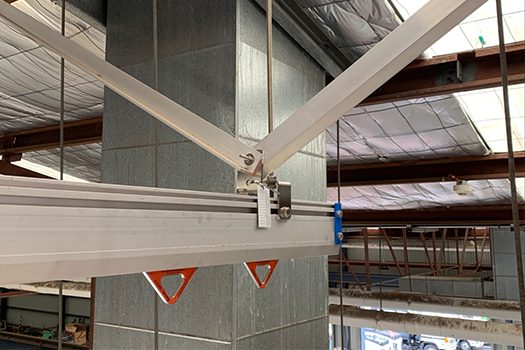 Overhead Rail Systems
Roof Access Hatches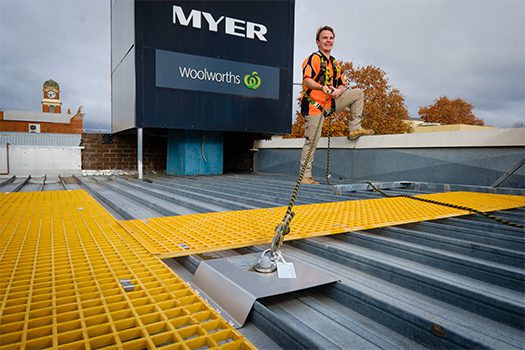 Roof Anchor Points
Permanent Roof Guardrail Systems
Skylight Protection
Static Line Systems
Stepladders & Stairs