Roof Access Ladders
Simple and effective access to elevated areas
Commercial Roof Access Systems
Anchor Safe is Australia's leading provider of commercial roof access ladders and stairway systems, offering comprehensive system design, installation, and height safety certification services. Anchor Safe ladder and stairway systems are highly cost-effective, maintenance-free, and available across Sydney, Melbourne, Brisbane, Albury, and their surrounding regions.
Every Anchor Safe roof access ladder and stairway system is designed to suit the specific needs of your site using the highest quality, Australian-made, and designed products. Our expert team of accredited installers will install and certify your system to ensure you meet all relevant Australian height safety standards. We're confident in the quality of our work, so all our height safety systems come backed by our 10-year product & installation warranty.
For more information on roof access systems or to organise a free quote, contact our friendly team
Roof Ladders and Stairs
Anchor Safe provides a range of fixed & permanently installed access solutions including stairs, cage ladders, step ladders, angled rung ladders, and vertical ladders that offer safe, convenient, and cost-effective solutions for rooftop access. All of the ladders we install have non-slip rungs and are compatible with fall protection accessories such as safety cages, safety rails, platforms, and vertical fall arrest lines.
It is important to carefully consider which type of access solution suits the specific needs of your property. Speak to the experienced Anchor Safe team to ensure your site gets the right access solutions for your building.
Ladder and Stairway Features:
Access systems to suit any application
Fully compliant with all relevant Australian height safety standards including AS 1657:2018
Prefabricated, modular components ensuring simple, rapid installation 
Locally designed and manufactured from high strength industrial grade aluminium
Maintenance-free, non-corrosive materials
Specially designed rung profile for comfort and easy use
Neat appearance with options for powder coating to match surrounding structures
Integrates with other height safety equipment including ladder cages, platforms, guardrails, walkways, and fall arrest systems.
Access System Design, Installation, and Certification
The design of a roof access system takes careful planning and understanding of the Australian standards, Legislation, and Codes of Practice to ensure all exposed fall edges have been taken care of and the user is not at risk of falling greater than 2m. That's why our clients turn to Anchor Safe, we take full responsibility for your access systems – let the experts deal with the compliance & legislation.
The design of a ladder access system is based on 3 basic principles:

How often the system will be used (frequent, periodic, infrequent) 
The types of maintenance services required on the roof (will tools and supplies be needed)
The physical limitations of space and the design of the building or application.
Anchor Safe's team of highly trained and experienced height safety system designers will assess your site's specific needs and create a system that complies with AS1657:2018 and the Working at Heights Associations (WAHA) industry code for stairways and ladders.
We provide ongoing recertification and maintenance plans in line with height safety regulations to ensure continued compliance and safety.
Speak to Anchor Safe today and we can help you determine the best height safety system for your rooftop that considers your budget, compliance requirements, and future access needs.
Roof Access Stairs
Stairs provide the easiest method of access for their users and carry the lowest residual fall risk of all height access solutions. Stairways should be used where frequent access is required for maintenance or equipment needs to be taken to the rooftop.
Under AS1657:2018, stairs are the preferred method of access from ground level to a rooftop or raised platform, between areas of varying heights on a roof, to provide access over pipework, mechanical equipment, parapets or to Intermediate landings, and as means of access on inclines greater than 20°.
Access stairs are suitable for heights up to 4050mm in a single flight. Once stairs have reached 4050mm they must have a 2m landing platform for rest and or change of direction before a continued ascent. Access stairs can be installed at inclines between 20° and 45° however, Anchor Safe always recommends installation angles between 30° & 38° where suitable.
It is a requirement for every stairway to have at least one handrail that is continuous between stair-flight landings. Handrails on both sides of a stairway are required when the width of the stairs exceeds 1m.
If external roof access stairs are located in an unsecured area, measures must be taken to prevent unauthorised access. Fencing or enclosures should be designed and installed when necessary to meet safety standards and ensure the security of the structure.
Roof Step Ladders
Step-type ladders for roof access (listed 4th in the AS1657:2018 hierarchical order of access) provide a middle ground between access stairs and fixed angled rung ladders. Roof step ladders are often used where there is insufficient physical space for access stair systems.
The Anchor Safe team recommends ladder cages once the height of a step ladder exceeds 3.5 meters per the WAHA industry code. AS1657:2018 requirements state that once a step ladder is above 6 meters it must have a cage installed and a change in direction or rest platform before any further ascent.
For compliance with Australian safety standards, step-type ladders must have a tread depth of at least 100mm and have hand railings installed on either side of the ladder which extend at least 900mm from the upper landing platform. Step-type ladders are suitable for use at inclines between 60° and 70°.
While step-type roof ladders have many similarities with stairs, they carry the same strict use procedures as all other ladders. Users must always maintain 3 points of contact and measures must be taken to ensure that the user faces the ladder while ascending and descending. View our ladder safety fact sheet here.
Angled Rung Ladders
Angled rung ladders are among the most common types of access ladders on the rooftops of Australia's commercial and industrial buildings. Whilst common, angled rung ladders carry a higher residual risk of fall and as such is listed 5th in the AS1657:2018 hierarchical order of access.
Along with greater risks of falls, this style of fixed access ladder is more difficult to use and requires more physical effort to climb. The carrying of tools and equipment is also greatly impacted making this ladder-type impractical in certain situations.
AS1657:2018 states that angled rung ladders should only be used where stairs or step-type ladders are unsuitable. Angled rung ladders can be used if:
Their use is infrequent
Tools or equipment will not be carried
It will not be used to evacuate injured persons
As a means of access to and from an area and not for carrying out actual works
Angled rung ladders can bridge up to 6 meters in height before a rest or change of direction platform is necessary. Once vertical height exceeds 3.5 meters, we recommend fall protection such as caged angled ladders per the WAHA industry code.
Angled rung ladders must be installed between 70° and 90° however, Anchor Safe always recommends angles between 70° and 75° where suitable. All angled rung ladders must have Handrails or lead-on at the upper access point to help the user turn around before descending the ladder.
Vertical Ladders with Fall Arrest Systems
Vertical ladders carry the highest residual fall risk of all the fixed access ladders. Vertical ladders are the most difficult to climb and will require the user to hold a working at heights ticket where fall arrest systems are installed. For this reason, AS1657:2018 states that a vertical ladder must only be installed if all other fixed access ladders and stairs are unsuitable.
For heights of 3.5 meters or more where a vertical ladder is the only option, Anchor Safe recommends a permanent fall arrest system, such as a vertical static line, be installed to minimise injury if a fall occurs. Fall arrest systems introduce specialty safety gear and the potential for human error, so the provision of information and training on how to use the ladder safely becomes necessary.
Caged vertical ladders can also be used as fall protection for heights over 3.5 meters but given the inherent risk with vertical ladders, this is not a solution we recommend. Either a cage OR a fall arrest system should be installed, but NEVER both. An unconscious or injured person suspended inside a caged ladder is extremely difficult to rescue.
Vertical ladders can bridge up to 6 meters in height before a rest or change of direction platform is required. Anchor Safe will recommend platforms at less than 6-meter intervals depending on the specific risk assessment of the application.
Fold-down Ladders
Fold-down ladders are perfect for internal access to ceilings or to rooftops via a roof access hatch. Fold-down roof access ladders allow access from floor level to the ceiling and beyond for external or internal roof maintenance. 
When not needed these folding ladders are stored neatly in the ceiling leaving the floor space to be clear for normal activities. Various models are available to suit suspended ceilings, steel or timber structures
Our industrial-rated fold-down roof access ladders are:
Suitable for ceilings up to 4.3m in height
Have 150kg safe working load
Offer a soft closing mechanism, suited to frequent use
AS1657:2018 hierarchy for means of access
AS1657:2018 states the hierarchy for permanent means of access from least to most risk as follows:
⦁ Level Walkway (0° to 3°)
⦁ Sloping Walkway (3° to 20°)
⦁ Stairs (20° to 45°). Preferred angle between 30° & 38°
⦁ Inclined Step ladder (60° to 70°)
⦁ Inclined twin-stile rung type ladders (70° and 90°) Preferred angle between 70° to 75°
⦁ Single stile rung type ladders (85° and 90°)
⦁ Individual-rung ladders (80° and 90°) [/content_block]
Top Requirements to Consider for All Fixed Ladders
A top landing is required
⦁ If the landing surface is not level or is uneven (eg. metal roof deck)
⦁ If the slope of the roof is greater than 3° in any direction
⦁ Must not be greater than 300mm off the roof deck
⦁ If ladder vertical height is under 3.5 meters a 1-meter platform is required.
⦁ If ladder vertical height is above 3.5 meters a 2-meter platform with guardrails is required
A lower landing is required
⦁ On all fixed ladders allowing for equal rung spacing.
Equal rung spacing
⦁ The top rung has to be at the same height as the top landing
⦁ The distance between the landing and the first rung should be equal to the rung spacing.
⦁ Rungs to be evenly spaced between 250mm and 300mm if height is greater than 1m
⦁ Rung dimensions are required to be between 20mm and 50mm to ensure adequate handgrip
Fall protection on ladders
⦁ Fall protection is required if the height of the ladder exceeds 3.5 m
About Anchor Safe
Anchor Safe is a proven and respected name in accredited height safety across Australia. Driven by a dedicated team of highly experienced height safety specialists, Anchor Safe is the 1st choice of Councils, Facility Managers, and Retail to ensure they meet safety compliance standards and their rooftops are kept safe.
Browse our full range of height safety products to meet all your needs, including:
Roof Walkways Systems
Harness Gear & Rescue Equipment
Roof Access Ladders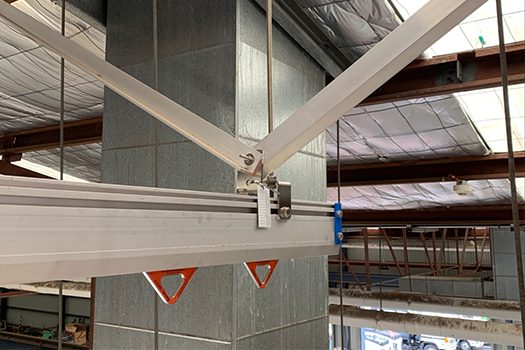 Overhead Rail Systems
Roof Access Hatches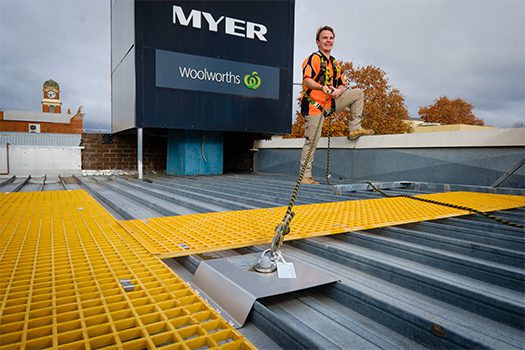 Roof Anchor Points
Permanent Roof Guardrail Systems
Skylight Protection
Static Line Systems
Stepladders & Stairs