LOCORAIL Fall Restraint System
Various solutions to keep your team safe while working at any height
The LOCORAIL® has been designed manufactured and tested for all rail bridges and railways situated on high abutments or banks. The unique fall restraint system allows serviceman to work freely without the risk of a fall. Not only does it minimize the risk of injury, it also provides a safer more efficient solution to working along the railway lines. Using this A Frame fall restraint system means there is nothing restricting the workers range of movement, allowing servicemen to get the maintenance done quickly and at ease.
When using the LOCORAIL® you are connected from above by an inertia reel which has an inbuilt shock absorber. This means that you are working in Fall Restraint, and if you were to take a fall you would fall no further than 600mm. Therefore only the lower area of your legs would be over the fall edge, therefore this means that the system is far safer as there is a less likely chance of hitting your head or other vital areas during the fall, which could potentially result in a serious if not fatal injury. It also means that you can either hoist yourself back up or be lifted by another person, which requires a less detailed rescue plan.
Other benefits with the LOCORAIL® is the fact that it passes over fishplates, glued joints, plated joints and welds without compromising safety due to its unique mechanically operated rail grab system attaching the frame to the rail. The grabs are able to be opened for ease of use to clear rail obstructions at any time – in addition the unit maintains its full fall certification while passing over various obstructions.
The LOCORAIL® kit comes with 2 full body Harnesses, 2 inertia reels & 1 instruction & Maintenance Manual. 
LOCORAIL Features:
It has inbuilt Tool Trays between legs of A-frame, as well as an extra Tool Tray which sits between the A-Frames
Engineered wheels with roller bearings which allow the trolley to be smoothly pushed or pulled along rails easily to work areas
Designed and tested for 2-person use
The LOCORAIL® has a friction brake in place to stop the trolley from rolling away
Certified & Compliant with Australian Standards AS1891.4.2009 & AS5532-2013
Fully insulated preventing activation of signalling infrastructure
Keep your team safe while working at heights
Workers who regularly operate on and around dangerous railway lines and bridges, will benefit from being able to safely and easily manoeuvre using our LOCORAIL Fall Restraint System. Workers need confidence when operating at heights, Anchor safes LOCORAIL boost confidence levels at all levels. If you're looking for the safest, reliable and practical equipment to help your team at heights, why not get in touch. We are ready to find the best quality solution for your needs.
About Anchor Safe
Anchor Safe is a proven and respected name in accredited height safety across Australia. Driven by a dedicated team of highly experienced height safety specialists, Anchor Safe is the 1st choice of Councils, Facility Managers, and Retail to ensure they meet safety compliance standards and their rooftops are kept safe.
Browse our full range of height safety products to meet all your needs, including:
Roof Walkways Systems
Harness Gear & Rescue Equipment
Roof Access Ladders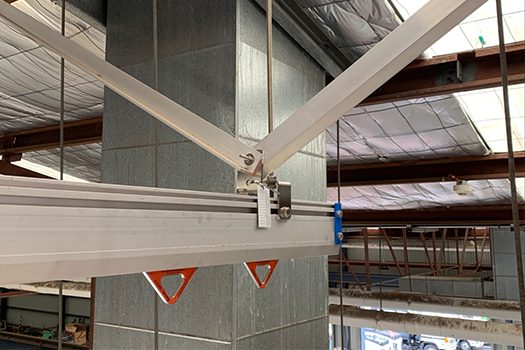 Overhead Rail Systems
Roof Access Hatches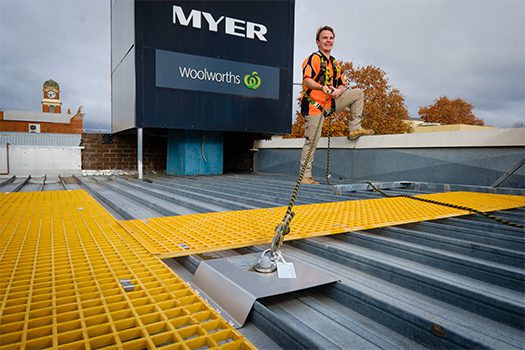 Roof Anchor Points
Permanent Roof Guardrail Systems
Skylight Protection
Static Line Systems
Stepladders & Stairs