Height Safety Inspections
Meet your responsibilities & ensure your workers are safe
Height Safety Audits, Inspections, and Reporting
Anchor Safe provides industry-leading height safety inspections and audit services for our clients across Australia. Our experienced team will ensure your systems and equipment meet strict compliance criteria for all relevant Australian Standards, Legislation, and Codes of Practice.
Trust a proven and respected name in accredited height safety to take care of all your inspection, maintenance, and recertification needs – get in touch with our friendly team today!
Height Safety Testing and Compliance Audits
Anchor Safe offers cost-effective and efficient height safety compliance inspections and audits for single and multi-site operators. With a team of highly experienced and accredited height safety engineers based in Melbourne, Albury, Sydney, and Brisbane, we are well placed to meet your needs no matter the location of your sites.
Height Safety Audits and Risk Assessment
A proper and thorough risk assessment is the most crucial step in height safety. Failure to properly identify risks will lead to flawed height safety practices and inadequate safety systems.
Our team will audit your existing height safety systems, equipment, and procedures to identify any issues, risks, or potential for improvement. The audit will advise whether any existing height safety equipment is compliant with Australian Standards and what safety systems and/or practices will be necessary to achieve compliance and worker safety.
Get a free quote 
Height Safety Inspections
Our expert height safety engineers will carry out an in-depth height safety inspection and testing procedures to ensure legal compliance with relevant Australia Standards, codes of practice, legislation, and manufacturer specifications.
Our industry-leading height safety inspections include:
Visual inspection of all system components

Recommendations to meet compliance

Pull & load testing 

Analysis of the type of work being conducted 

Analysis of the heights at which these tasks take place

Identification of fall hazards that need attention
Height Safety Reporting
We provide comprehensive height safety reporting with all our findings as well as any recommendations to rectify any hazards or issues our inspections or audits have identified. User-friendly online asset management tools make understanding and reviewing the status of your systems easy and convenient.
Should we find defects or non-compliant aspects of your installed system, our experienced height safety engineers will work with you to design and install custom solutions that meet or exceed AS1891.4:2009 and AS1657-2013 as well as all relevant height safety codes, standards, and legislation. 
Your Obligations for Height Safety Inspections
To ensure your height safety systems and equipment are legally compliant, periodic inspection is mandated by Australian Standards, State Legislation, and Codes of Practice. These measures aim to ensure adequate maintenance and testing to ensure fall protection systems are fit for purpose and workers are kept safe.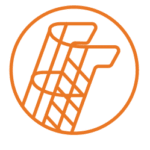 Fall Protection System Inspection Frequency
Height Safety Equipment Inspection Frequency
Don't risk your compliance and worker safety –
Speak to the Experts!
Why Choose Anchor Safe? 
Anchor Safe offers comprehensive height safety services to take the pressure off building owners and managers, ensure compliance, and keep workers safe. We're a trusted partner, not a player – offering convenient and cost-effective solutions for height safety management.
All inspections carried out by an experienced and accredited height safety inspector

Detailed reports backed with the support and guidance of our expert team

User-friendly online asset management tools that keep you updated and in the know

Scheduled maintenance and recertification to ensure you're always safe and compliant

Competitive pricing backed by Australia's leading height safety company

Full compliance with Australian codes, standards and legislation.
Anchor Safe is a recognized member of the WAHA (Working At Heights Association) and is among the most highly accredited and certified height safety companies in Australia. With ongoing compliance management and maintenance services, you can rest assured that your building or work site is completely compliant and your workers at height are safe.
.
Browse our full range of height safety products to meet all your needs, including:
Roof Walkways Systems
Harness Gear & Rescue Equipment
Roof Access Ladders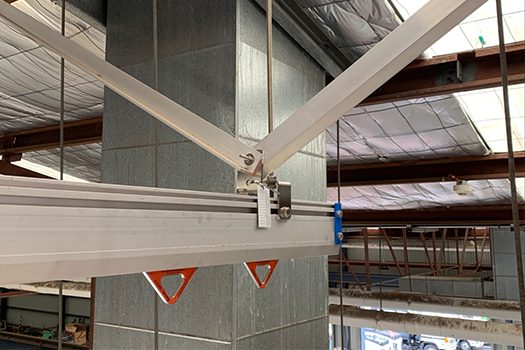 Overhead Rail Systems
Roof Access Hatches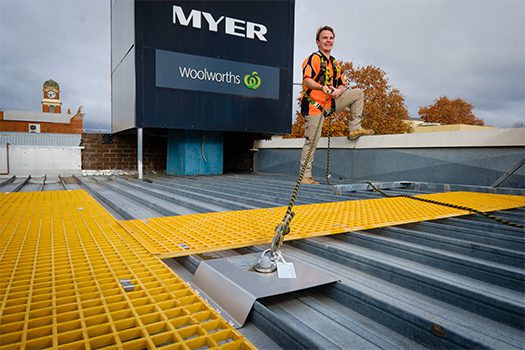 Roof Anchor Points
Permanent Roof Guardrail Systems
Skylight Protection
Static Line Systems
Stepladders & Stairs