Height Safety System Installations
Our systems are custom designed and expertly installed by our certified and highly skilled technicians
Custom Installations to Meet Your Height Safety Needs
Working at heights is often perceived as working at extreme heights such as on top of wind turbines and on the edge of high-rise buildings however, a significant number of injuries that occur from falls from heights are from less than 3m above the ground. This is why "working at height" is simply defined as:
"where a worker has a risk of a fall from one level to another that is reasonably likely to cause injury to the worker or another person"
Working at height is an inherently dangerous scenario that puts workers' safety at risk and exposes employers and building owners to potential liability if there are no safety systems in place. Thankfully, Australian safety standards, practices and systems go a long way to reducing the risks for all.
At Anchor Safe, we're committed to providing expert installation of height safety systems for our clients across Australia. For over 15 years, Anchor Safe has been designing and installing high-quality fall prevention and fall protection systems that meet and exceed, all industry standards.
Our systems are custom designed and expertly installed by our certified and skilled technicians using the highest quality, Australian-made, and designed products. Experienced and independent, we pride ourselves in our quality workmanship, premium quality system components and cost-effective solutions all backed by our 10-year product & installation warranty.
.
Our Height Safety Installers
Our installation teams are all trade-certified, experienced, and undergo annual height safety training to ensure the highest levels of workmanship and safety are upheld. We've put a lot of time and resources into building the best height safety team in Australia to ensure our clients get the quality, care, and professionalism that we're renowned for.
Incorrectly installed height safety systems can significantly reduce or even negate the system's ability to perform when it's needed most, inhibiting its ability to prevent serious injury or death. For this reason, choosing an accredited and highly experienced height safety installer with a reputation for quality work is critical in ensuring a workplace stays compliant and workers are kept safe.
Accredited
Our installation teams are all trained in the correct installation methods by system manufacturers. Anchor Safe are preferred installers for Sayfa, DBI SALA, Safety Link and CM3 height safety system components.
Experienced
Our installation teams are comprised of highly experienced height safety technicians with years of experience in successfully installing safety systems of all kinds on a huge variety of sites. Our teams know how to get the job done the right way. Check out our recent work.
Expert
Our installation teams undertake regular training to keep them up to date with the latest height safety regulations and best practices to ensure every system we install is fully compliant, user friendly and safe.
Local Installation Teams Near You in Sydney, Melbourne & Albury
System Components
Anchor Safes dedicated installation team can supply and install a vast array of equipment to create a total height safety system customised to suit your exact needs. Height safety systems we install include Roof Anchor Points, Roof Walkways, Permanent Guardrail Systems, Roof Access Ladder and Stairway Systems, Overhead Rail Systems, Roof Access Hatches, Static Line Systems, Skylight Protection, and Plant Platforms. We can also advise on and supply the correct Height Safety PPE to accompany it.
We specialise in:
Roof Safety Systems
Roof Access Systems
Fall Arrest Systems
Fall Restraint Systems
Fall Prevention Systems
Bespoke Height Safety Solutions For Any Situation
Explore Our Height Safety Systems
.
The Installation Process
Our team performs a detailed risk assessment, audit and inspection of the site(s) and any existing height safety systems.
We design a custom height safety system that ensures statutory compliance and maximises worker safety in a user-friendly and cost-effective package.
We organise a time for installation that minimises impact on your business operations.
Our expert team efficiently installs and certifies your systems to ensure compliance with Australian standards, codes and legislation.
We can provide ongoing compliance management that takes care of maintenance, inspection and recertification of your height safety systems across the property or property portfolio.

Why choose Anchor Safe?
Anchor Safe offers comprehensive height safety services to take the pressure off building owners and managers, ensure compliance, and keep workers safe. We're a trusted partner, not a player – offering convenient and cost-effective solutions for height safety management.
Systems designed by accredited and highly experienced height safety system designers
Systems installed by highly experienced and accredited height safety installation teams
All systems come backed by our 10-year product and installation warranty
Competitive pricing backed by Australia's leading height safety company
Full compliance with Australian codes, standards and legislation.
Total height safety management from a trusted partner
Anchor Safe is a recognized member of the WAHA (Working At Heights Association) and is among the most highly accredited and certified height safety companies in Australia. With ongoing compliance management and maintenance services, you can rest assured that your building or work site is completely compliant and your workers at height are safe.
Browse our full range of height safety products to meet all your needs, including:
Roof Walkways Systems
Harness Gear & Rescue Equipment
Roof Access Ladders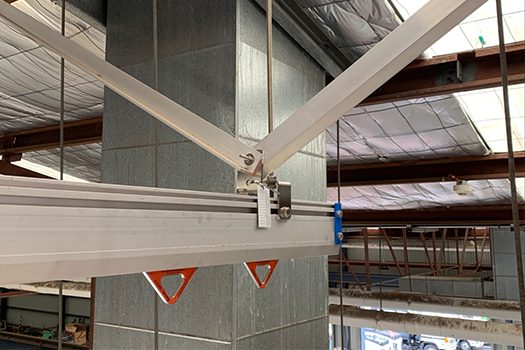 Overhead Rail Systems
Roof Access Hatches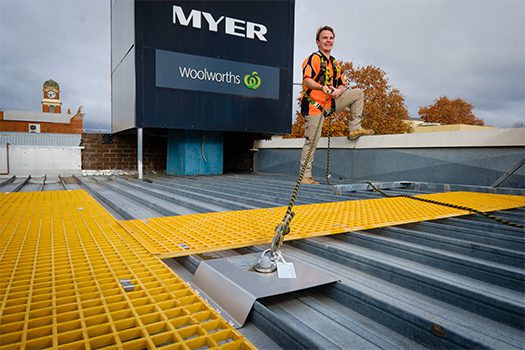 Roof Anchor Points
Permanent Roof Guardrail Systems
Skylight Protection
Static Line Systems
Stepladders & Stairs