Height Safety System Recertification
With complete compliance, you'll work safer & smarter, with reduced risks & liabilities.
By law, all permanently mounted fall arrest safety systems require annual inspection and recertification. These systems can include roof anchor points, static lines, vertical line ladders and any other system components designed to prevent or arrest a fall from heights. Height safety systems such as guardrails, walkways, access ladders, stairway systems and skylight protection systems are recommended by manufacturers to be inspected & recertified annually by an accredited inspector.
As your partner in height safety–we take total responsibility for height safety system compliance across your building portfolio. We ensure peak performance, and guaranteed regulatory compliance while providing building owners and facility managers with unparalleled access and control through our proprietary online asset management tool.
Our teams in Sydney, Melbourne, Brisbane and Albury offer accredited height safety system recertification services. We will thoroughly inspect, test and certify your system as required by the Australian Standards AS/NZS 1891.4.
Annual Inspection, Certification & Maintenance Services
Our accredited height safety technicians carry out in-depth height safety inspection and testing procedures to ensure legal compliance with relevant Australia Standards, codes of practice, legislation, and manufacturer instructions and guidelines.
.
Our industry-leading height safety inspections include:
Thorough visual inspection of all system components
Pull & load testing
Analysis of the type of work being conducted
Analysis of the heights at which these tasks take place
Professional tagging and signage to meet compliance requirements
Full reporting and analysis
As preferred installers for Sayfa, and Safety Link you can trust our team to keep your systems in top condition and completely compliant for the lifetime of your building.
.
Our Online Asset Management Tool
The Anchor Safe team have designed and developed an integrated compliance app, that monitors height safety assets in real time. Our proprietary online asset management app makes managing height safety convenient, more transparent and highly efficient, providing instant visibility of registers and timely reminders for events such as recertification.
.
Height safety in real-time
Our tool provides a detailed database of all your height safety system components including their installation dates, their last certification and when the next one is due. Track real-time progress on height safety audits and manage non-compliance issues across multiple sites with ease.
Scheduling and tracking
Simplified scheduling and tracking takes the stress out of height safety management and ensures complete transparency. We can schedule audits and inspections with the click of a button and track non-compliance issues across multiple properties at a glance.
Instant data input
Our onsite technicians input their asset reports straight into our compliance app while onsite.
Complete visibility across multiple sites
With total transparency across your whole portfolio, you have an understanding of your current risk exposures and issues that require attention.
Your Obligations for Height Safety System Recertification
Periodic inspection and recertification are mandated to ensure your height safety systems and equipment are legally compliant under Australian Standards, State Legislation, and Codes of Practice.
These annual inspections should be undertaken by an accredited and experienced height safety certifier trained to inspect system components to ensure they are fit for purpose, in good working condition, and meet all legislative requirements.
Failure to meet height safety system inspection and recertification requirements not only puts the health and safety of workers at risk but also creates the potential for extreme personal and professional liability. Employers can face potential jail time and companies can be left with significant fines for failing to meet their obligations to ensure the health and safety of workers at heights.
Fall Protection System Recertification Frequency
Why Choose Anchor Safe?
Anchor Safe offers comprehensive height safety services to take the pressure off building owners and managers, ensure compliance, and keep workers safe. We're a trusted partner, not a player – offering convenient and cost-effective solutions for height safety management.
Industry-leading height safety inspections from our accredited team
Convenient online asset management tool for transparency and peace of mind
Stress-free scheduled recertification and maintenance across your portfolio
Competitive pricing backed by Australia's leading height safety company
Full compliance with Australian codes, standards and legislation.
Total height safety management from a trusted partner
Anchor Safe is a recognized member of the WAHA (Working At Heights Association) and is among the most highly accredited and certified height safety companies in Australia. With ongoing compliance management and maintenance services, you can rest assured that your building or work site is completely compliant and your workers at heights are safe.
.
.
Browse our full range of height safety products to meet all your needs, including:
Roof Walkways Systems
Harness Gear & Rescue Equipment
Roof Access Ladders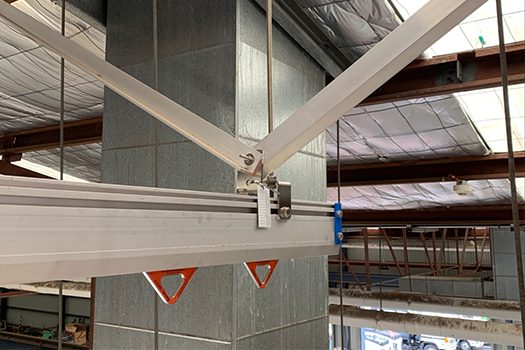 Overhead Rail Systems
Roof Access Hatches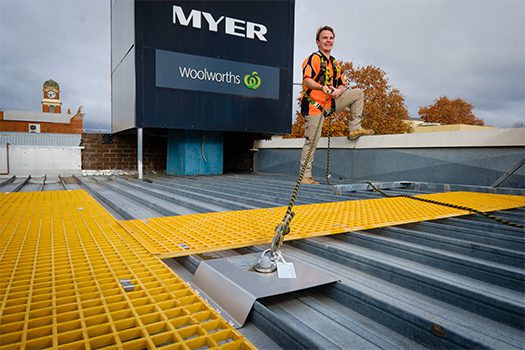 Roof Anchor Points
Permanent Roof Guardrail Systems
Skylight Protection
Static Line Systems
Stepladders & Stairs