Falls from ladders are one of the most common causes of injury in Australia. The 3 most common elements in falls involving ladders are incorrect set-up, incorrect use and damaged or poor-quality ladders. 
Falls from ladders can result in abrasions, dislocations and fractured limbs, spinal cord damage or severe brain injury and even death. In fact, on average 4 to 5 Australians (mainly men) die each year after falling from a ladder and nearly 1 in 10 falls from a ladder result in brain injury. Follow our 8-step guide to safe ladder use to prevent incidents and injury in your workplace or home or download our Safe Use of Ladders Visual Fact Sheet
Portable Ladders; When to use them
Portable ladders provide convenient, temporary access for simple jobs of short duration. By their nature, they are not designed for regular access, for long periods working at height or for the transfer of large or heavy objects such as building supplies.
In the workplace, a portable ladder should only be used where other alternatives, such as scaffolding, work platforms or permanent access systems are not reasonably practicable. A portable ladder should not be used for working at heights of four meters or more and the combined weight of the person using the ladder and any items or tools should never exceed the working load limit on the ladder.
There are a number of other reasons that may exclude the use of portable ladders which are discussed below. These include the type and condition of the ladder and whether its fit for purpose. The use scenario, including the location, set-up and the height of works. And also whether the user is suitable to use the ladder for the intended purpose including sufficient training for safe use.

8 Steps to Ladder Safety
Standards Australia has published a revised standard (AS 1895.2:2020 Portable Ladders) which provides minimum requirements and recommended safe practices for the selection, use and maintenance of portable ladders in order to minimise the risks for those who use or work with or are near portable ladders. We've combined this with our unmatched experience as Australia's leading height safety provider to create this 8-step guide to ladder safety.
1. Conduct a Risk Assessment
Conducting a height safety risk assessment in accordance with the hierarchy of control for working at height is an essential step in identifying potential hazards and implementing appropriate controls for safe ladder use.
During the assessment, potential hazards should be identified and evaluated for their severity. Key risk factors when using a ladder include the type of work, weather conditions, the presence of electrical lines or wiring, machinery and tools and the duration of use. Risks should be identified for both the user of the ladder and those at the ground level and dealt with appropriately.

2. Choose the right ladder 
Different types of ladders have different uses, different load ratings and varying degrees of inherent risk. When choosing the most suitable ladder for the job, it is important to consider the following;
The ladder should comply with Australian Standards (AS/NZS 1892.) and have a clearly displayed load rating of at least 120 kg.

The combined weight of the person using the ladder and any items or tools should never exceed the working load limit of the ladder.

Ensure the ladder is fit for purpose including ensuring it is the right height and size for the job.

A-frame ladders should only be used when locked in the fully-open position. An A-frame or an extension ladder may be appropriate for some tasks, but a platform ladder is safer.

Metal ladders must be fitted with rubber feet or a similar non-slip material.

Use a non-conductive, insulated ladder for electrical work or near electrical hazards
3. Inspect the ladder before each use
Over time a ladder may acquire damage and wear that can lead to it being unreliable and unsafe for use. Always inspect your ladder to ensure it is in good condition before each use and never use a ladder that has been damaged or has missing parts. 
Pre-use ladder inspection checklist;
Check for structural damage including bent side rails and damaged or missing rungs or steps.

Check the ladder's rubber feet or boots are present and in good condition

Check there are no missing, broken or worn ropes, braces or brackets.

Check all hardware is in working order including screws, bolts, hinges and rivets

Check the ladder is clean and free of chemical damage and wear and tear

Read the ladder warning labels and never use the ladder in a manner not recommended by the manufacturer.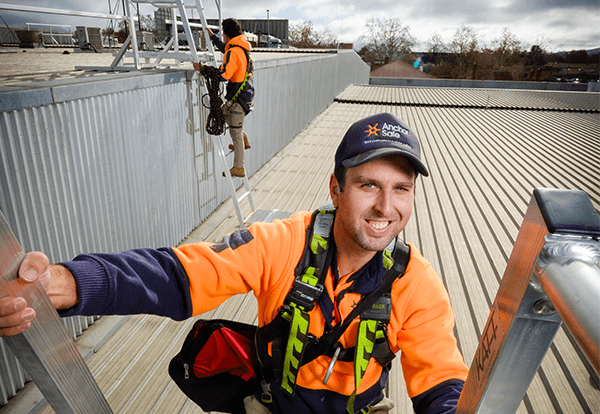 4. Ensure physical capabilities of using the ladder
Using a ladder can require physical abilities such as balance, coordination, and most importantly strength. It is important to only use a ladder if you are physically capable of doing so, taking into account your age and general health and wellbeing. 
Physical requirements for using a ladder may include:
Good balance and stability to stand and move on the ladder safely

Adequate hand, arm and leg strength to grip the ladder and climb up or down

Flexibility to adjust body positioning while on the ladder

Coordination to maintain control and balance while using tools or equipment on the ladder
5. Position and secure the ladder correctly
Set-up and positioning of the ladder are among the most crucial aspects of ladder safety and a common factor in ladder falls.
To set up a ladder correctly;
Place the ladder on a flat and stable surface. For soft, uneven or sloping surfaces, use a support under the ladder feet for levelling and stability.

The maximum height of the ladder should not extend over 4 meters.

Secure the ladder at the top or bottom (preferably both) to prevent slipping.

Ensure that the ladder extends at least one metre above the landing.

Single or extension ladders should be angled at a ratio of 1:4. That is, position the base of the ladder 1 metre away from the supporting structure for every 4 metres of height.

Engage all locks and braces on the ladder. A-frame ladders should only be used when locked in the fully-open position.

Ensure the surrounding area is uncluttered and free of obstructions.

Do not work directly above other people. Barricade the area below and implement signage if required.
6. Use the ladder safely
No matter how safe or fit for purpose a ladder is, using it incorrectly greatly increases the risk of an accident. Incorrect use is one of the largest contributors to ladder falls and injury in Australian workplaces.
To use a ladder correctly;
Always maintain three points of contact when climbing or descending the ladder. This means having two hands and one foot, or two feet and one hand on the ladder at all times.

Face the ladder when climbing up the ladder.

When climbing down, remain facing the ladder and climb to the bottom rung before stepping off.

Do not climb or work past the second-last rung of a ladder and never straddle the top of an A-frame ladder.

Keep your body centred between the sides of the ladder. Never lean or reach away from the ladder while using it

Only take small items up or down a ladder – never large or heavy items such as building materials. Only carry items that allow you to maintain three points of contact.

Wear fully enclosed, slip-resistant footwear.

Only one person should be on a ladder at any given time
7. Have an Emergency Response Plan 
Having comprehensive accident and rescue plans in place for workers at height and ensuring workers are familiar with them will ensure you have the necessary equipment and processes should the need arise. 
Rescue plans and equipment are something that we all hope to never need to use, but if the time comes, being properly prepared will be hugely important.
8. Training and Education
While there is no required training for the use of portable step ladders, instilling a culture of safety and educating on safe ladder use should always be a priority for any business where work is being undertaken at height. There are many methods a company can use to communicate safety standards throughout the workplace including:
Set clear expectations of exactly what is required
Hold regular Toolbox Talks to review and discuss safety standards.
Implement strong company policies on safety at height
Implement routine safety checks from supervisors
Encourage employees to hold each other accountable
Share industry case studies and incident reports as examples of insufficient safety measures
When it comes to height safety in the workplace, there is no room for complacency. See our 10 Steps to Height Safety in the Workplace post for more information.
Summary
Ladder safety is a vital concern for business and personal use that should not be taken lightly. We've provided detail on the 8 crucial elements of ladder safety including conducting a risk assessment, choosing the right ladder, inspecting the ladder before each use, ensuring physical capability, positioning the ladder correctly, using the ladder safely, having an emergency response plan and instilling a culture of safety. By taking these steps seriously, you can help prevent injuries and fatalities due to ladder falls. It is essential to remember that ladder safety is everyone's responsibility, and each of us must take proactive measures to ensure the safety of ourselves and others around us.
Comprehensive Height Safety Services 
Anchor Safe offers comprehensive height safety services to building owners and managers, to ensure rooftops and other working at height situations are compliant with all relevant codes, standards, and regulations.
We take care of everything, starting with the design of a customised height safety solution using quality products. Our certified and highly trained team will install your systems to ensure they are fit for purpose and meet and exceed all relevant certification standards.
With ongoing compliance management and maintenance services, you can rest assured that your building or worksite is completely compliant and your workers at height are safe.