Roof Walkways and Guardrail Systems
When it comes to keeping employees and contractors safe, permanent, controlled access roof walkways and guardrail systems are your first point of call.
These roof safety systems provide permanent and controlled access for contractors and maintenance technicians to undertake work on almost any elevated surface. Anchor Safe guardrail and walkway systems are highly cost effective and are maintenance-free.
Anchor Safe guardrail systems provide an effective barrier around elevated surfaces, while our walkway systems offer a sturdy path with a non-slip surface. Guardrails and walkways are the most recommended fall protection system in the hierarchy of control measures, they provide the highest level of fall prevention for roof access and work at heights.
Our roof guardrails and walkways offer complete safety and cost-effective, non-corrosive protection, which means that staff don't need to wear fall arrest personal protection equipment (PPE) or harnesses. Additionally, roof access walkway protects roof sheets and membranes from damage in high traffic areas and provides a safe method of access over skylights.
When it comes to guardrail installation, our products are suited to a variety of different roof surfaces and pitches. Products are prefabricated and modular, which makes for simple and fast on-site installation.
When you choose Anchor Safe as your walkway or guardrail installer, you'll have the choice of fabrication using quality aluminium or FRP (Fibre Reinforced Polyester) components. Whichever suits you best, both are manufactured using sustainable and quality materials.
Anchor Safe guardrail and walkway systems can be painted or powder coated to blend in and match your building.
And you can be sure your people are protected and your liability is minimised: all our walkways comply with AS 1657-2013.
Products we supply:
OnTrak
TrakLite
Sentry
Pace600
We have a range of walkways that are easily installed on roofs with steep inclines, creating a safe path for employees and contractors to travel. If the pitch of the roof exceeds 7°, walkways are levelled in accordance with AS 1657.
Browse our full range of height safety products to meet all your needs, including:
Roof Walkways and Guardrail Systems
Harness Gear & Rescue Equipment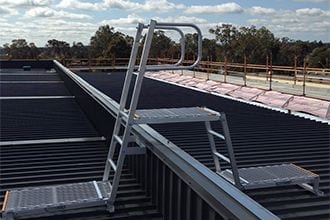 Roof Access Ladder Systems
Overhead Rail Systems
Roof Access Hatches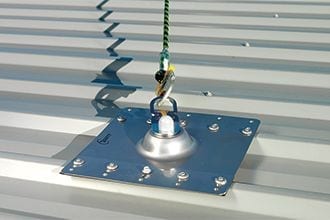 Roof Anchor Point Systems
Skylight Protectors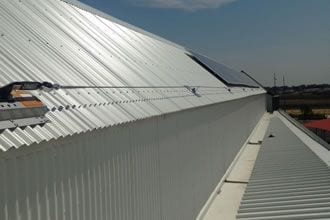 Static Line Systems
Stepladders, Stairs & Platforms