Stepladders & Stairs Sydney
Modular design for simple on-site delivery and assembly
Looking for roof step ladders and roof stairs in Sydney?
We have an exclusive range of height safety equipment in Sydney whenever you need safe, frequent, and easy access to varied height applications.
Ensure that your buildings and workplace practices in Sydney adhere to the current safety standards with our custom-designed roof stairs and roof step ladders. With 10 years of industry experience, we promise you the highest quality infrastructure for many productive years to come.
Our Sydney team will work with you to design the highest quality roof stairs and roof step ladders suited to your unique needs. When you work with Anchor Safe you will have a design and construction partner from the beginning.
Taking care of every step of the process
Our dedicated Anchor Safe team in Sydney works across councils, large property portfolios and retail complexes. As well as supplying roof step ladders and roof stairs in Sydney, we design and install the right height safety solution to match your building's structure and requirements, and then recertify and maintain your roof step ladders and roof stairs on an ongoing basis.
Features include:
Easy access and a high level of safety
Purpose designed and built to suit your application
Modular design for simple on-site delivery and assembly
Lightweight, robust aluminum construction
Products we supply:
Quality you can count on
Known for our quality, we ensure that all our roof stairs and step ladders are made with premium quality stainless steel to endure the harsh weather and general wear and tear. We ensure that all our products, custom or pre-made, comply with Australian and New Zealand height safety regulations. This includes State and Federal Workcover and OHS codes of practice and building regulations.
Height Safety Solutions
Roof step ladders and stairs are ideal for access to varying heights. At Anchor Safe we work with you to provide the best solution for your situation. This may include adding guardrails or platforms to your step ladder systems to ensure maximum safety.
Our industrial stairs and industrial step ladders are purpose-built for the building's requirements as well as your unique needs. When our team in Sydney plans your height safety solutions they will consider the location of any exhaust fans, skylights, ventilation, and air conditioning. We assembled your roof stairs and roof step ladders onsite, for fast installation that minimises disruption to your operations.
Contact our team in Sydney today for your personalised quote.
Browse our full range of height safety products to meet all your needs, including:
Roof Walkways Systems
Harness Gear & Rescue Equipment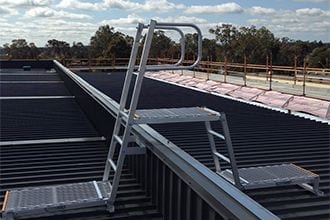 Roof Access Ladder Systems
Overhead Rail Systems
Roof Access Hatches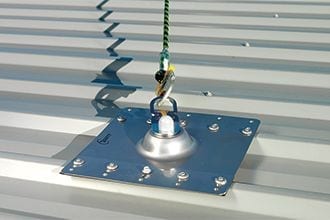 Roof Anchor Points
Permanent Roof Guardrail Systems
Skylight Protection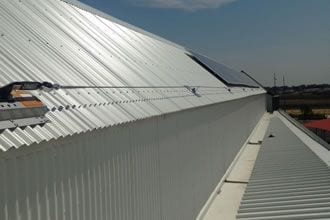 Static Line Systems
Stepladders & Stairs