Stepladders & Stairs Canberra
Modular design for simple on-site delivery and assembly
When you need safe, frequent, and easy access to varied height applications, our exclusive range of height safety equipment in Canberra holds your answer.
Ensure that your buildings and workplace practices in Canberra adhere to the current safety standards with our custom designed roof stairs and roof step ladders. We promise you quality infrastructure for many productive years to come.
Contact our Canberra team for the highest standard of industry custom-designed roof stairs and roof step ladders. When you work with our Anchor Safe team in Canberra you will have a design and construction partner from the beginning.
Taking care of every step of the process
Our dedicated Anchor Safe team in Canberra will audit your work site to identify your specific needs, then draw up a plan for your roof stairs or roof hatches. Our team will look after your roof step ladder and stair installation from start to finish and will remain onsite to test the systems and ensure it meets all safety standards. We also provide maintenance and recertification to ensure that your roof step ladders and stairs meet AS/NZ standards for years to come.
Independent advisors
Anchor Safe is not aligned with any particular product. This means our Canberra team source the best and highest quality materials for your roof stairs or step ladders. As an accredited manufacturer or height safety equipment, we take full responsibility and ensure we comply with Australian and New Zealand height safety legislation. This includes State and Federal Workcover and OHS codes of practice and building regulations.
Height Safety Solutions
As an essential workplace safety system, you can benefit from roof stairs and roof step ladders if you or your staff need to access varied heights. Roof step ladders and roof stairs may also contain guardrails or platforms, depending upon where they are located and how they need to be used.
Features include:
Easy access and a high level of safety
Purpose designed and built to suit your application
Modular design for simple on-site delivery and assembly
Lightweight, robust aluminum construction
Products we supply:
Industrial stairs and industrial step ladders are purpose-built for your needs as well as the building's requirements. When planning, our Canberra team will consider the location of any exhaust fans, skylights, ventilation, and air conditioning. We build your roof stairs and roof step ladders in subdivided parts so it can be assembled onsite, fast, and with minimum disruption to your operations.
The highest quality Australian products are selected from the beginning for your project. In Canberra, we construct our roof step ladders and roof stairs of lightweight yet robust aluminium, and ongoing maintenance and recertification is performed over its life to ensure your building remains compliant.
Contact our Canberra team today for your personalised quote.
Browse our full range of height safety products to meet all your needs, including:
Roof Walkways Systems
Harness Gear & Rescue Equipment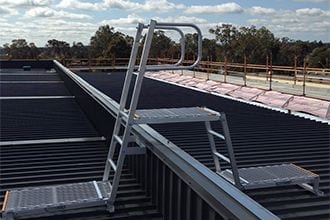 Roof Access Ladder Systems
Overhead Rail Systems
Roof Access Hatches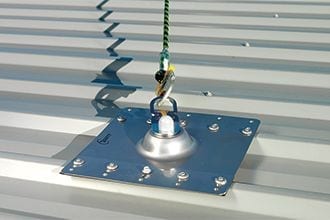 Roof Anchor Points
Permanent Roof Guardrail Systems
Skylight Protection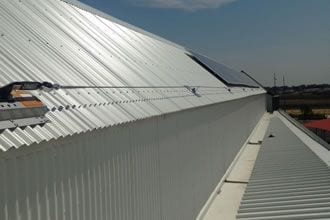 Static Line Systems
Stepladders & Stairs