Skylight Protection Sydney
Lightweight, high-strength aluminum skylight protection
Anchor Safe offers a broad range of high-quality skylight protection solutions across Sydney. We say with utmost confidence that our skylight protectors are secure, functional and abide by Australian safety standards. Our skylight covers can be relied upon to ensure maximum risk reduction when it comes to roof fall protection, so Sydney workers can depend on us when it comes to their safety.
Being leaders of the height-safety industry with years of expertise under our belts, you can be sure that our Sydney team has your safety as their number one priority when evaluating appropriate solutions for your site. With experience in the construction industry ourselves, we understand the unique needs of every job and worker and thus, tailor our solutions for whatever suits your needs. Our combination of expertise, flexibility, and customer-centred solutions means that Anchor Safe is your best option for height-safety solutions. Because when the safety of you or your workers is in question, don't settle for less.
Skylight protectors are especially important, as workers tend to be primarily concerned with falling off a roof, but what about falling through it? This common oversight has unfortunately seen the serious injury and death of too many over the past years, and when you can stop tragic accidents like these with simple, effective solutions, why wouldn't you? At Anchor Safe, our skylight protection solutions ensure the lasting safety of workers. With everything from skylight protectors to roof safety rails, Anchor Safe have a solution to guarantee peace of mind for building owners, site managers and workers alike.
Contact our helpful Sydney team today if you are interested in securing your worksite, as we offer a variety of skylight protection solutions such as skylight cages, roof safety rails, roof safety mesh and signage.
Features of our Skylight Protectors:
Standard, application-suited or purpose-built options
Non-corrosive, maintenance-free componentry
Lightweight, high-strength aluminium skylight protection
We also offer signage – either standard, application-suited or custom
Skylight and Roof Fall Protection Available in Sydney
Framed Skylight Cover (Cage).
Our sturdy, secure, aluminium skylight cages offer the security needed to ensure skylight-related hazards are eliminated on the worksite. Our services for Sydney worksites extend to the custom creation, installation and maintenance of framed skylight covers, so you can be confident that our expertise allows for maximum hazard reduction.
Skylight Mesh.
Like the framed skylight cover, our range of mesh skylight covers help to reduce the risk of accidents. Don't let their minimalist design fool you, our mesh skylight covers are able to support significant weight, offering protection to an industry regulated standard.
Roof Safety Rails.
We offer simple guardrail and walkway solutions to provide safe access to areas of the roof that may be of high risk of skylight-related accidents. With these in place as well as our skylight covers, you can be sure that the risk of any accidents are minimised.
Skylight protection products we offer:
At Anchor Safe, we offer a personally curated selection of skylight protection brands we trust with our years of experience. These Include:
For all your Sydney Skylight Protection Services needs, give our friendly team a call on 1300 475 186.
Browse our full range of height safety products to meet all your needs, including:
Roof Walkways Systems
Harness Gear & Rescue Equipment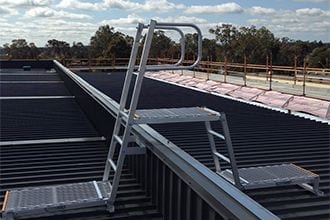 Roof Access Ladder Systems
Overhead Rail Systems
Roof Access Hatches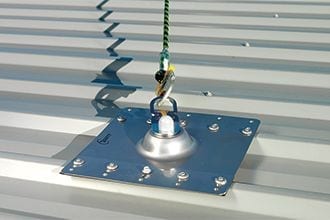 Roof Anchor Points
Permanent Roof Guardrail Systems
Skylight Protection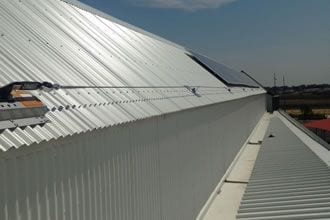 Static Line Systems
Stepladders & Stairs