Skylight Protection Canberra
Lightweight, high-strength aluminum skylight protection
Anchor Safe offers an array of skylight protection and installation services across the Canberra region. Anchor Safe's skylight protectors are proven to be effective and are compliant to Australian safety standards. We take your safety extremely seriously and say with confidence that our skylight covers are dependable, practical and most importantly, safe. With this in mind, you can be sure that Anchor Safe has the back of roof and height workers in Canberra.
Having years of experience in the height-safety business under our belts, our Canberra team know the intricacies of working high-risk jobs, meaning your safety is paramount when it comes to choosing the right protective measures for the job. Our expertise within the construction industry means we understand the unique needs of every worksite. This means that with Anchor Safe, your safety solutions are tailored specifically for what suits you, and it is this extra mile of personalisation and service that truly defines who we are. Our combination of expertise, flexibility, and customer-centred solutions is what makes Anchor Safe industry leaders for all height-safety solutions.
An alarming rise in roof accidents involving workers falling through skylights is why skylight protectors and related safety measures are unmistakably important. Fortunately, the risk of devastating incidents like these can be reduced through Anchor Safe's skylight protection and installation services, which ensure the lasting safety of your workers. Our adaptable range of skylight protection solutions include roof safety rails, skylight protectors and everything in-between, meaning Anchor Safe always has a solution to guarantee peace of mind for building owners, site managers and workers alike.
Contact our devoted Canberra team today if you are interested in minimising risk on your worksite, as our range of skylight protection solutions such as skylight cages, roof safety rails, roof safety mesh and signage will surely get the job done.
Features of our Skylight Protectors:
Standard, application-suited or purpose-built options
Non-corrosive, maintenance-free componentry
Lightweight, high-strength aluminium skylight protection
We also offer signage – either standard, application-suited or custom
Skylight and Roof Fall Protection Available in Canberra
Framed Skylight Cover (Cage).
Our built-to-last aluminium skylight cages offer the support needed to ensure the risk of skylight-related accidents on your site is minimised. Our services for Canberra worksites extend to the unique production, installation and maintenance of framed skylight covers, so you can rest assured that your new safety measures are backed up by years of experience.
Skylight Mesh.
Much like the framed skylight cover, our mesh skylight covers ensure the safety of your job. Despite their minimalistic, non-intrusive design, our mesh skylight covers have been engineered to support hefty quantities of weight and offer safety of the highest standard.
Roof Safety Rails.
Our uniquely tailored guardrail and walkway solutions provide the safest access to hazardous areas of roofs that pose a risk to you and your workers. When implemented in combination with our skylight covers, you can rest assured that any risk of skylight-related accidents has been eliminated.
Skylight protection products we offer:
At Anchor Safe, we offer a personally curated selection of skylight protection brands we trust with our years of experience. Including:
For all your Canberra Skylight Protection Services needs, give our friendly team a call on 1300 475 186.
Browse our full range of height safety products to meet all your needs, including:
Roof Walkways Systems
Harness Gear & Rescue Equipment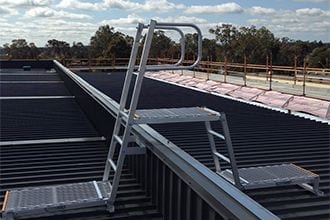 Roof Access Ladder Systems
Overhead Rail Systems
Roof Access Hatches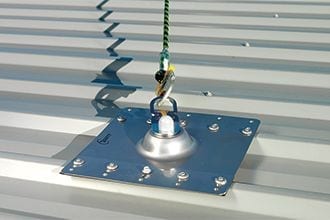 Roof Anchor Points
Permanent Roof Guardrail Systems
Skylight Protection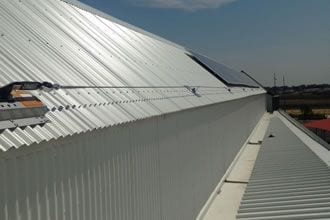 Static Line Systems
Stepladders & Stairs