Roof Walkways and Guardrail Systems Melbourne
Provide fall protection whilst also protecting your asset
At Anchor Safe, we specialise in keeping employees and contractors working at heights safe and secure. We are passionate about workplace safety and are highly experienced at installing roof guardrail systems and roof walkways across Melbourne.
As the name suggests, roof walkways provide a safe and sturdy path of access for workers on elevated surfaces. Combined with a roof guardrail system, these non-slip paths are a great way to give contractors, employees and maintenance technicians access to tricky areas while minimising the risk of falling. Roof fall protection guardrails act as a barrier around high areas, preventing any accidents and injuries on sites in Melbourne. When used together, roof walkways and guardrails are one of the most effective fall protection systems available today.
Anchor Safe provides guardrail systems and roof walkways Melbourne residents can depend on. Our workplace safety solutions including our roof access walkways and roof fall protection guardrails are built with the worker in mind.
Our roof walkways offer complete safety and non-corrosive protection, so there's no need for staff to wear a harness or other bulky fall protection equipment. Likewise, they are cost-effective and maintenance-free, meaning you can focus on growing your business.
Regardless of your roof guardrail requirements, Melbourne-based Anchor Safe can help! Our products can quickly and efficiently be installed on-site and on a variety of different surfaces. We can even customise roof walkways and guardrails to blend in and match your roof. We use only the highest quality materials from reputable manufacturers. Whether you choose aluminium walkways or fibre reinforced polyester, you can rest assured all our systems comply with AS 1657-2018.
We have a range of walkways that are easily installed on roofs with steep inclines, creating a safe path for employees and contractors to travel. If the pitch of the roof exceeds 7°, walkways are levelled in accordance with AS 1657.
Where roof walkways & guardrails are used:
Did you know you can find roof guardrail systems Melbourne-wide? In fact, these systems are often central to many construction and maintenance tasks, particularly in large building sites with many workers. Of course, the primary role of roof access walkway systems is to stop workers from falling over an edge and minimise the risk of injury.
However, in addition to protecting workers and giving your company a more professional image, roof walkways Melbourne have the added benefits of:
Protecting fragile roof areas
Giving workers safe access over skylights
Helping reach otherwise unreachable areas
Providing safer access between machinery
It is no surprise that more and more companies across Melbourne are opting to install roof walkways and roof fall protection guardrails!
Brands / Products we supply
Anchor Safe provides roof walkways Melbourne workers recognise for their outstanding quality. This means we only install safety equipment from brands that meet our high standards.
These include:
OnTrak
Sentry
Pace600
TrakLite
In addition, we can install fold-down guardrails, which can be folded to blend in with the aesthetics of your building. We offer ultimate flexibility, custom solutions and great value for our services.
Keep your workforce safe at heights
Anchor safe is the solution to all your roof walkway and roof guardrail requirements Melbourne-wide. For more information, contact one of our expert team members today.
Browse our full range of height safety products to meet all your needs, including:
Roof Walkways Systems
Harness Gear & Rescue Equipment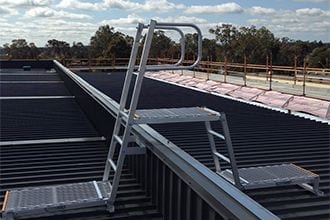 Roof Access Ladder Systems
Overhead Rail Systems
Roof Access Hatches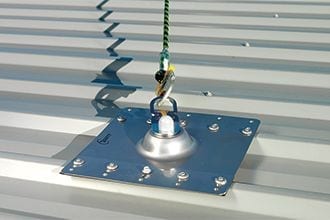 Roof Anchor Points
Permanent Roof Guardrail Systems
Skylight Protection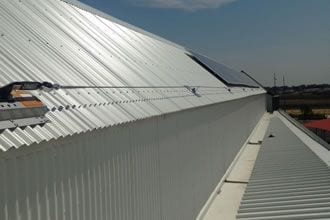 Static Line Systems
Stepladders & Stairs