Roof Walkways and Guardrail Systems Canberra
Provide fall protection whilst also protecting your asset
When it comes to workers' safety, there's no room for mistakes. This is why more and more businesses are turning to Anchor Safe for roof access walkway systems that Canberra businesses know and trust. Our roof walkways and roof fall protection guardrails provide an easy and effective way to keep those working at heights safe from falling.
Roof walkways are sturdy, non-slip paths designed to give contractors, builders and maintenance technicians safer access to elevated areas when working at height. As the name implies, roof fall protection guardrails are like a barrier around the elevated surface. Together, roof walkways and guardrails are an effective form of fall prevention, allowing workers to do their tasks safely regardless of how high up they are.
At Anchor Safe, we are experts at height safety solutions. For years we have been providing roof access walkway systems Canberra workers can depend on. All our systems are made with the worker in mind, ensuring optimal comfort and flexibility. Business owners will be glad to hear that our guardrails and roof walkways Canberra-wide are also cost-effective and maintenance-free, so you can focus on managing your team.
In terms of installation, we offer custom solutions to suit all your roof guardrail requirements across Canberra. We offer easy and efficient on-site installation by professionals in the industry, as well as high quality and sustainable materials for every roof. When you install roof walkways and guardrails with Anchor Safe, you can choose between aluminium and fibre reinforced polyester. Whatever you opt for, you can feel confident that your new systems are made from the highest quality materials and comply with even the toughest of regulations.
Our roof walkways and roof guardrail systems can be modified to match your building, and to make sure your liability is minimised all our installations comply with AS 1657-2018.
We have a range of walkways that are easily installed on roofs with steep inclines, creating a safe path for employees and contractors to travel. If the pitch of the roof exceeds 7°, walkways are levelled in accordance with AS 1657.
Where roof walkways & guardrails are used:
For years, we have been installing roof access walkway systems across Canberra. You may be surprised to hear that roof walkways and guardrails are more common than you think! They are a key feature in many building projects and maintenance tasks, especially in large sites with many employees and contractors. Other safety benefits of roof walkways and roof fall protection guardrails include:
Providing safe access to tricky areas
Helping workers avoid brittle roof areas
Protecting the roof itself and hence avoiding wear and tear in the future, including water leaks
Providing safe access over skylights
Safe access between machinery and silos
Can easily blend in with your building's aesthetic
Cost-efficient
Brands / Products we supply
Anchor Safe provides some of the best roof access walkway systems Canberra has to offer. This is because we only install roof walkways and guardrail equipment from trusted and reputable brands that meet our high standards.
These include:
OnTrak
TrakLite
Sentry
Pace600
Another thing that sets us apart from other roof access walkway systems Canberra-based businesses is our excellent and personalised service. We can modify your systems to blend in with your roof or install a foldable guardrail system to keep with your building's aesthetic.
Keep your workforce safe at heights
Anchor Safe provides an easy and cost-effective solution to all your roof walkway and roof guardrail requirements Canberra-wide. If you're considering installing height safety equipment in the Canberra area, don't hesitate to give us a call.
Browse our full range of height safety products to meet all your needs, including:
Roof Walkways Systems
Harness Gear & Rescue Equipment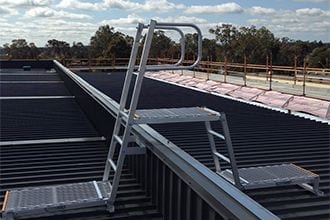 Roof Access Ladder Systems
Overhead Rail Systems
Roof Access Hatches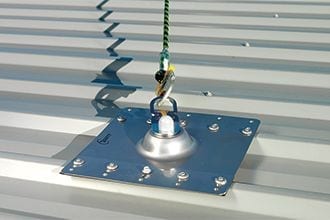 Roof Anchor Points
Permanent Roof Guardrail Systems
Skylight Protection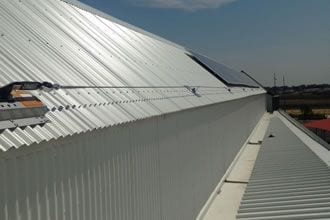 Static Line Systems
Stepladders & Stairs