Roof Anchor Point Systems Melbourne
Anchor points are a vital part of a fall protection system
Our roof anchor points make it easy for workers in Melbourne to keep themselves safe.
Why you need roof anchor point systems
Roof anchor points help minimise the risk of injury for those working at height. If a worker's harness is attached to a roof anchor point, they are less likely to get hurt if they slip or fall. The roof anchor point helps control the fall and minimise any chances of a 'pendulum effect'. In normal circumstances, workers can even get back to the task at hand immediately.
At Anchor Safe, we design our roof safety anchor points with workers in mind. Our models provide easy movement and superior safety for workers. This has made us one of the most trusted roof anchor point installers in Melbourne.
There is a reason why building owners, managers and government clients repeatedly turn to us for height safety solutions. With years of experience and a qualified team, we pride ourselves in supplying roof anchor points Melbourne-wide. Knowledgeable and independent, we provide specialised advice and help business comply with height safety regulations.
If you're looking for height safety solutions, Anchor Safe is the company for you. Whether it be gutter maintenance, plant servicing or solar panel installation, our team of professionals can supply the right roof safety anchor points for your business.
We choose the right roof anchor point for you
Our roof anchor points installers will ensure you get the appropriate roof anchor point system for your needs. This can vary depending on the job so it is important to get expert advice on the matter. At Anchor Safe, our specialists can design a custom system that's right for you.
To create the right roof anchor point system for you, we also take into consideration the mount required, for example, steel, tile, truss, etc. Our trusty roof anchor point installers will place anchors strategically to ensure you can still access important areas.
As you can see, Anchor Safe is all about delivering a personalised experience. Installing roof anchor points is a crucial part of height safety, so you must make sure you get it right.
Our two most popular roof anchor point systems, surface mounted and concrete mounted, each have their own merits. Whilst Surface Mount Anchor Points are suitable for the majority of metal roofs, Concrete Mount Anchor Points are typically found on multiple storey buildings.
Of course, roof anchor points are utilised in conjunction with other equipment to ensure maximum height safety. This usually includes a harness alongside other items. Anchor Safe stocks a wide variety of height safety equipment to use alongside roof safety anchor points and help keep those working at height safe.
Roof Anchor Points Melbourne
Now available for installation in Melbourne, Anchor Safe's roof safety anchor points can improve workplace safety and minimise the risk associated with working at height.
With years of experience providing roof anchor points Melbourne-wide, our team of expert roof anchor point installers can help ensure your piece of mind. Our team of safety specialists will inspect your Melbourne side to undertake an audit and identify any potential hazards. We help you verify you're complying with current codes, standards and legislation so you can focus on running your business.
We like to build relationships with our customers so we don't just install roof safety anchor points; we take the time and care to make sure you're getting exactly what you're looking for. After your roof anchor safety points have been installed, you can rely on Anchor Safe for maintenance and audits. As legislation changes, Anchor Safe will be right there with you to ensure you're meeting even the highest of standards.
Anchor Safe can help with audits, inspections, reporting, solutions design, roof anchor point installation, maintenance and more. Get in touch today and find out how they can help with your next roof anchor point job.
Our roof anchor point systems offer many benefits:
Simple retrofit design, fall arrest rated
Cost-effective, low visual appearance
Advanced energy-absorbing properties
Simple installation and low profile system
Water tight seals
We supply respected roof anchor products, including:
3Sixty
Low-Pro
Cobra
X-Plora
Stealth
We make sure your anchors are compliant, year after year
Anchor Safe's installation professionals have been extensively trained to comply with AS/NZS 1891 – Industrial fall-arrest systems and devices. As part of the installation, Anchor Safe supplies installation certificates and manuals as required by AS/NZS 5532.
Under AS/NZS 1891 anchors must be tested annually. As a full service provider Anchor Safe will arrange this for you, and we can also manage the rigorous record-keeping through our cloud based reporting system.
To find out more about roof anchors and how they can be used to comply with Australian OHS laws, speak now with a Height Safety Specialist.
Browse our full range of height safety products to meet all your needs, including:
Roof Walkways Systems
Harness Gear & Rescue Equipment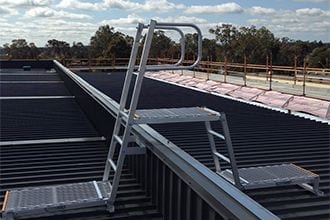 Roof Access Ladder Systems
Overhead Rail Systems
Roof Access Hatches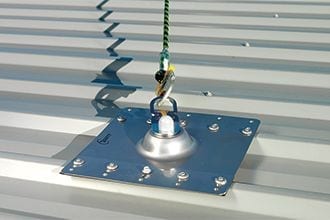 Roof Anchor Points
Permanent Roof Guardrail Systems
Skylight Protection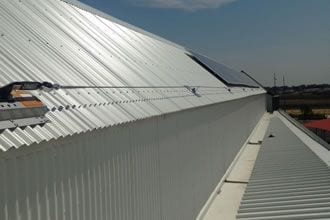 Static Line Systems
Stepladders & Stairs