Roof Access Ladder Systems Melbourne
Simple and effective access to elevated areas
Looking for roof access ladder systems Melbourne-wide?
At Anchor Safe, we have years of experience providing roof access ladders Melbourne professionals know they can trust. Our certified, functional and innovative designs make us leading height solution experts in the region. All our access ladders are designed with workers in mind, meaning they are user-friendly, non-invasive and most importantly— safe.
With a team of highly qualified experts and knowledge accumulated through years in the industry, we manufacture all our roof access ladder systems to meet even the strictest of regulations. Our access ladders are made using aluminium, so they are both light and strong, convenient and corrosion-resistant. Not only do they provide easy access to elevated areas, but they are also comfortable and can be personalised to your unique needs.
Melbourne residents come to us when they are in the market for roof access ladders. Our ladders feature slip-resistant rungs and can also be used with a variety of other height safety accessories including safety cages and fall arrest systems such as vertical lifelines and rails. Additionally, we offer security features to prevent any unwanted access. These include gates and ladder doors that can be shut and locked at your convenience.
Whatever your requirements, Anchor Safe can meet them; our team of experts is qualified to supply, install, maintain and re-certify roof access ladder systems Melbourne-wide. We have a large range of access ladders and height safety equipment available, including but not limited to ladder brackets, crossover ladders, cage ladders, fixed ladders, foldable ladders and much more.
Two of our most popular designs are fixed ladders and loft ladders. Here's some key information about them:
Commercial and Industrial Fixed Roof Access Ladders Melbourne
Commercial and industrial fixed roof access ladders provide easy access to rooftops, ceiling spaces and other elevated surfaces. To keep those working at height safe, they are secured in place using stabilising brackets after installation. When you opt for fixed vertical access ladders, you have the choice between fixed ladders without cages or a fixed ladder with a safety cage. Anchor Safe also allows you to add compatible height safety equipment such as fall arrest cables, walkways, rest and direction changing platforms and guardrails.
Commercial Attic Stairs and Industrial Loft Ladders Melbourne
Loft ladders are retractable or fold-down ladders that are typically installed in the floor of an attic and the ceiling of the floor below the attic. As such, they can blend in with the ceiling and become invisible to the eye when you're not using them, making them a great option if you're concerned about visual aesthetics. This type of access ladder offers an easy, inexpensive and practical solution to reaching indoor ceiling spaces and roofs no higher than 4300mm.
With years of experience providing roof access ladder systems Melbourne-wide, Anchor Safe is the right company for your next height safety solution. For more information about our range of roof access ladders and how we can be of help, don't hesitate to contact one of our friendly team members today!
Browse our full range of height safety products to meet all your needs, including:
Roof Walkways and Guardrail Systems
Harness Gear & Rescue Equipment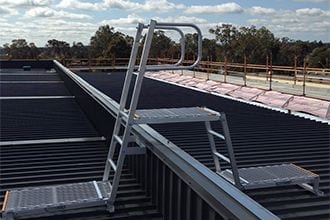 Roof Access Ladder Systems
Overhead Rail Systems
Roof Access Hatches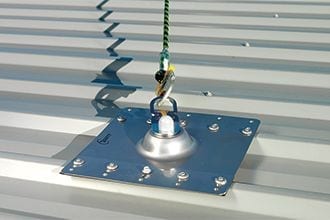 Roof Anchor Point Systems
Skylight Protection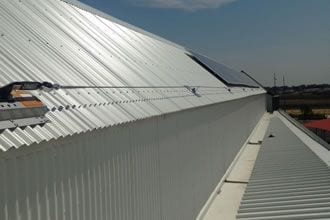 Static Line Systems
Stepladders & Stairs