Roof Access Ladder Systems Canberra
Simple and effective access to elevated areas
Anchor Safe offers a wide range of high-quality roof access ladder systems Canberra-wide. With functional, practical and innovative designs and years of experience, we provide roof access ladder systems Canberra residents can rely on.
We are height safety solutions experts, meaning our roof access ladder systems are safe, convenient and easily operated. Using a tried and tested Fixed Rung Ladder System, our products facilitate vertical or incline access to elevated areas. This makes them perfect for those working at height, with a wide variety of designs available to suit your individual workplace needs.
At Anchor Safe, we don't compromise on quality— we use only the highest quality materials to make sure all our products meet our strict standards. Our roof access ladder systems are made from aluminium to ensure they are not just light and user-friendly but also corrosion-resistant and strong.
Additionally, all our roof access ladders come with anti-slip rungs and can accommodate other height safety equipment. From safety cages and rails to fall arrest systems, our access ladders can be utilised with a wide range of equipment and accessories to keep those working in elevated spaces safe. To top it off, you can also add security features such as ladder doors and lockable cage gates to prevent unauthorised persons from entering.
If you're looking for roof access ladders in Canberra, we can help! We offer everything from portable ladders, wall brackets, fixed rung mini access ladders, crossover ladders, cage ladders, fold-down ladders and more. Our two most popular roof access ladders Canberra-wide are fixed and fold down (loft) ladders. Here's a bit more about them:
Commercial and Industrial Fixed Roof Access Ladders Canberra
Our industrial fixed roof access ladders allow you to safely and efficiently reach elevated areas such as rooftops and ceiling spaces. Once installed, this type of roof access ladder system is secured using stabilising brackets for ultimate peace of mind. You can choose from a fixed vertical ladder with safety cage or fixed ladders without cages, vertical or angled. We also offer angled handrails, retractable stiles and fall arrest cables as well as walkways, directional platforms and guardrails should you desire them.
Commercial Attic Stairs and Industrial Loft Ladders Canberra
A loft ladder is a retractable ladder designed for internal access to elevated areas such as ceilings or rooftops up to a certain height. Generally, this type of access ladder is installed on the floor of an attic to be used when needed. As they can be 'hidden' and folded away, loft ladders offer an inexpensive, visually appealing and practical solution to reaching these spaces. They also tend to have wider steps and a steep slope. We have a variety of models available to accommodate suspended ceilings, timber or steel structures.
Whether you're looking for fixed ladders, fold-down ladders or something else, our friendly team of experts can supply, maintain, install or re-certify roof access ladders Canberra-wide. To find out more about height solutions Canberra professionals know and trust, contact us today.
Browse our full range of height safety products to meet all your needs, including:
Roof Walkways Systems
Harness Gear & Rescue Equipment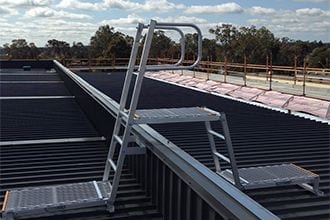 Roof Access Ladder Systems
Overhead Rail Systems
Roof Access Hatches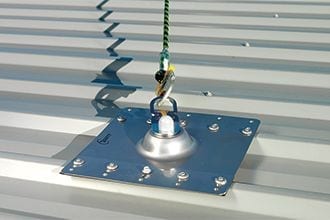 Roof Anchor Points
Permanent Roof Guardrail Systems
Skylight Protection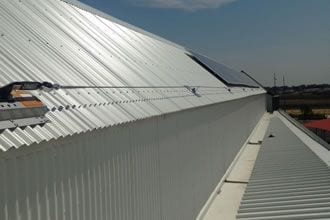 Static Line Systems
Stepladders & Stairs