Overhead Rail Systems Melbourne
Continuous and effective free moving fall protection
For effective and continuous fall protection in Melbourne, explore our range of overhead rail systems.
Years of experience in the height-safety industry has meant that our Melbourne team know exactly what works for keeping your worksite personnel safe when working at heights. Here at Anchor Safe height safety is our priority, that's why we ensure that all our equipment is functional, practical and safe for your team to rely on.
Our proprietary abseil and fall arrest overhead rail system is no exception. This system is designed to give continuous and effective fall protection for multiple users at heights. Our Melbourne team will work with you throughout the whole process from auditing, designing and planning where to put your overhead rail system, to supplying and installing your overhead rail system and then maintaining and recertifying it in the future. We ensure that all our equipment meets Australian height-safety standards.
We appreciate that no elevated surface, rooftop, or machinery equipment is the same, and that is why we have designed our overhead rail system to fit with a range of structures including structural steel work, metal roof decks, concrete structures, and roof purlins.
Overhead Rail System Uses
Our overhead rail systems are best used when working above machinery, equipment or for façade access for general maintenance and cleaning.
When our overhead rail system is used in combination with a retracting lifeline, you can be confident that your workers in Melbourne will always remain in a fall restrain position. This is designed to reduce the risk of a mid-air suspension.
Alternatively, our overhead rail system can be used as an abseil system. This eliminates the need to connect and reconnect to individual anchor points. The ropes remain connects to the trolleys and your employees are safe to move across the roof or heighten surface with ease.
Here at Anchor Safe, we pride ourselves on our quality. We use the highest-quality materials to fabricate our overhead fall arrest systems so you can be sure they last for years and are resistant to the harsh Australian weather.
We also offer regular maintenance of your overhead rail systems in Melbourne and recertification ensure they continue to meet ever-changing Australian safety guidelines.
Benefits include:
Uninterrupted, smooth functionality
Minimal deflection in the rail system during a fall
Increased number of users per rail system
Neat and unobtrusive, with an option for powdercoating
Overhead rail products we supply in Melbourne:
Raptor
Edge
Raptor Groove
To find out more about how we can supply and install, or maintain and recertify overhead rail systems in Melbourne contact us today!
Browse our full range of height safety products to meet all your needs, including:
Roof Walkways and Guardrail Systems
Harness Gear & Rescue Equipment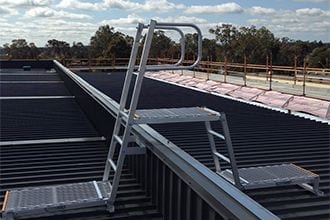 Roof Access Ladder Systems
Overhead Rail Systems
Roof Access Hatches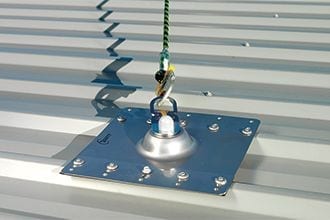 Roof Safety Anchor Points
Skylight Protection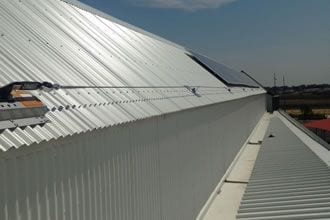 Static Line Systems
Stepladders & Stairs