Harness Gear & Rescue Equipment Sydney
Long-term durability, quality and comfort – Xero, Beaver, Ferno & Miller Brands
Providing safety to the people of Sydney working at height has never been easier.
Anchor Safe offers a wide range of high-quality safety harnesses and fall protection gear that is comfortable, easy to manoeuvre in and above all else, safe.
As Australia's largest city, Sydney has a definite need for safety equipment while working at heights. Anchor Safe is Sydney's one stop shop for all height safety equipment, fall protection gear and rescue equipment. Anchor Safe's extensive range of harnesses and gear can help you conform to the regulations involved in working at height, ensuring you or your workers can work to a suitable level of safety.
Anchor Safe only source products from trusted suppliers using the finest quality materials. This provides a premium level of safety, while also including a comfortable and durable fit. This allows for easy manoeuvrability and long-lasting protection from falls.
How To Prepare Your Gear for Working at Heights
While packing safety harnesses and other fall protection gear away you should ensure that you are taking your time and being careful not to tangle or damage the equipment. This ensures that you can fit your equipment quickly in the event of an emergency. Having a clear process when storing your equipment away means that there is less chance for any confusion while wearing or using fall protection gear.
By storing your fall protection equipment correctly, you can ensure that you are able to apply it efficiently while also protecting it from undue damage or wear and tear. With the temperamental Sydney weather, it's extremely important that your gear is stored properly and not exposed to the elements. Luckily, Anchor Safe provides harness storage solutions.
Be sure to also have regular checks of all your gear, including a routine clean. By manually checking your gear for any abrasions, damage or degradation you can be kept in the know about when it's time to replace your safety harness or fall protection gear.
What's in Our Fall Protection Kits
The working at height safety kits available from Anchor Safe provides the full range of products that you need to ensure protection for those working at height. The range of Sydney fall protection gear includes:
Roofer's kits
Height safety harnesses (includes arborist harnesses, sports harnesses, multi-purpose harnesses)
Lanyards
Pole straps
Adjustable rope lines
Energy absorbers
Harness storage cabinets
Carry bags
Carabiners
Other components that are required by code to ensure safety when working at heights.
Fall Protection Brands That We Supply:
Anchor Safe only provides products from the most trusted safety harness and fall protection brands. These brands use the finest materials to create long-lasting height safety products that stand the test of time. These include:
Edge
Zero
Beaver
Ferno
Miller
Arresta
If you're looking for safety harnesses and fall protection gear in Sydney, look no further than the team at Anchor Safe. With years of industry experience and a strong commitment to safety, while working at heights, we can help you to provide a safe working environment.
Contact us today for more information about our fall restraint systems in Sydney.
Browse our full range of height safety products to meet all your needs, including:
Roof Walkways Systems
Harness Gear & Rescue Equipment
Roof Access Ladders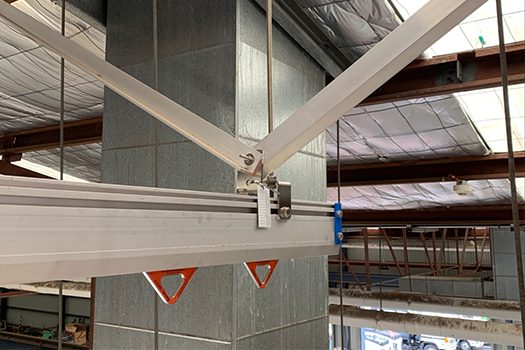 Overhead Rail Systems
Roof Access Hatches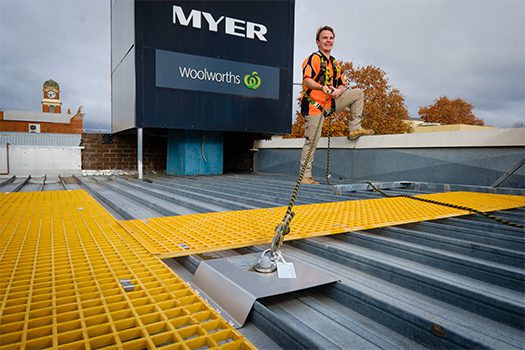 Roof Anchor Points
Permanent Roof Guardrail Systems
Skylight Protection
Static Line Systems
Stepladders & Stairs