Harness Gear & Rescue Equipment Melbourne
Long-term durability, quality and comfort – Xero, Beaver, Ferno & Miller Brands
In the expanding skyline landscape of Melbourne, the need for rooftop safety harnesses and fall protection gear is as important as ever.
Providing roofing harnesses and kits that allow for safe, comfortable and non-restrictive movement at height is extremely important, to ensure the safety of all that work at height in Melbourne.
The precautions that must be followed while working at heights ensures the highest possible level of safety for workers, and Anchor Safe can provide all of the required safety equipment for working at height in Melbourne. Whether you're working on roof maintenance, rescue operations or anywhere in between, Anchor Safe can provide you with all the fall protection and rescue equipment you need to ensure the correct level of safety during your work.
Using premium quality materials from trusted international suppliers, our equipment provides an exceptional level of safety. They are designed to last and provide safety solutions for years to come.
How To Prepare The Right Height Safety Gear
Investing in equipment that can be maintained and fitted in a matter of minutes is a major priority when working at height. Whether that is as part of a rescue operation or not, the safety harness and fall protection equipment provided by Anchor Safe is designed to maximise efficiency and safety for those that wear them.
By storing your equipment correctly, you can avoid any unwarranted damage or wear and tear to your safety harness and equipment. Anchor Safe has storage solutions for your precious safety harnesses and fall protection gear, helping protect it from moisture, corrosive materials and the weather.
Keeping your gear for working at height in Melbourne in optimal condition also requires some regular maintenance. By regularly cleaning your safety gear you can ensure that your equipment won't fail when you need it most. By gently washing any dirt or stains from your gear and hanging it to dry in a ventilated area, you can be sure that no parts of the webbing or harness is being degraded without your knowledge.
What's in our Height Safety Kits
The fall protection kits that are available from Anchor Safe provide the full package for working at height in Melbourne. All the essentials are included in our kits, fit for use as rescue equipment and fall protection. Included are:
Roofer's kits
Height safety harnesses including arborist harnesses, sports harnesses, multi-purpose harnesses
Lanyards
Pole straps
Adjustable rope lines
Energy absorbers
Harness storage cabinets
Carry bags
Carabiners
Extra components required by code for working at height in Melbourne
Safety Equipment Brands That We Supply:
In Melbourne, you have access to a range of fall protection equipment from Anchor Safe. Supplied by a host of industry-leading providers of safety harness and rescue equipment, the range includes safety products from:
Edge
Zero
Beaver
Ferno
Miller
Arresta
Backed by a wealth of industry knowledge and a range of quality brands, Anchor Safe provides a full service for those requiring fall protection and rescue equipment in Melbourne.
To enquire about how Anchor Safe can help you to ensure the safety of your workers, contact us today.
Browse our full range of height safety products to meet all your needs, including:
Roof Walkways Systems
Harness Gear & Rescue Equipment
Roof Access Ladders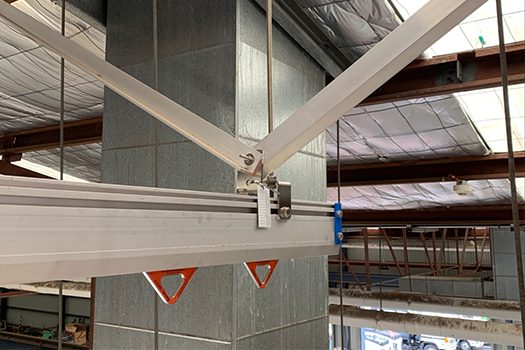 Overhead Rail Systems
Roof Access Hatches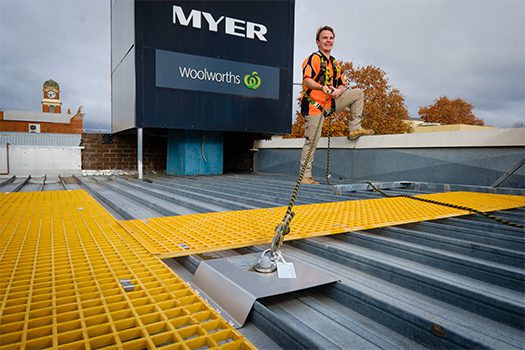 Roof Anchor Points
Permanent Roof Guardrail Systems
Skylight Protection
Static Line Systems
Stepladders & Stairs