Harness Gear & Rescue Equipment Canberra
Long-term durability, quality and comfort – Xero, Beaver, Ferno & Miller Brands
When working at height in Canberra, you must ensure that your safety gear is secure, comfortable and allows for ease of movement.
This gives you the required level of safety while also allowing for a comfortable fit.
Your safety harness and fall protection gear must be working correctly if you will be working at height in Canberra. They are the single most important part of your rescue equipment for working at heights, so it's extremely important that your harness gear is up to standard.
Our fall protection harnesses, and rescue equipment are manufactured to be fully adjustable, using premium grade materials to ensure prolonged use. If you're based in Canberra, look no further for your safety harness and fall protection needs.
How To Be Prepared
Quality harnesses are especially important when used in a rescue capacity. Our rescue equipment for working at heights can be fitted in a matter of minutes, which is especially critical in time-sensitive rescue operations.
The importance of correct fall protection harness storage should not be ignored. Storing your harness and safety gear properly can help to limit wear and tear that can pose a deadly threat. Storing your roofing safety gear incorrectly means that it could be damaged by water, chemicals or the harsh Canberra sun. Storing your safety harnesses and fall protection gear doesn't have to be hard. At Anchor Safe, we provide tried and tested storage solutions for your gear that can ensure your gear is working as it should be.
Prepare your safety harness and fall protection gear for use by doing regular checks and maintenance. This should come in the form of gentle cleaning without harsh chemicals, and visual checks for any abrasions or damage.
What's in our Safety Kits for Working at Height
Anchor Safe offers the full service, with our Canberra safety harnesses and rescue equipment kits including all that you need to ensure safety when working at heights in Canberra. Our full range of fall protection harnesses and equipment includes all the essentials:
Roofers kits
Height safety harnesses which include arborist harnesses, sports harnesses and multi-purpose harnesses
Lanyards
Pole straps
Adjustable rope lines
Energy absorbers
Harness storage cabinets
Carry bags
Carabiners
Other components for working at height that ensure safety
Products we supply:
We offer only the finest safety and fall rescue equipment to our partners in Canberra. We offer roofers fall arrest kits from these trusted brands:
Edge
Zero
Beaver
Ferno
Miller
Arresta
For all your Canberra safety harness and fall protection gear needs, look no further than Anchor Safe. Our roofers' safety kits ensure that you are in the best hands while working at height. The safety of roof and rescue workers in Canberra can be all but ensured with Anchor Safe, your one-stop shop for fall protection and rescue harness equipment in Canberra. To enquire about our range of products, contact us today.
Browse our full range of height safety products to meet all your needs, including:
Roof Walkways Systems
Harness Gear & Rescue Equipment
Roof Access Ladders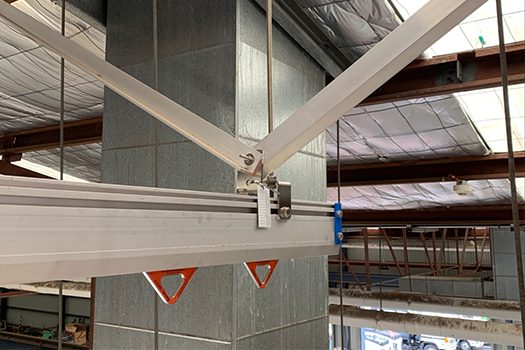 Overhead Rail Systems
Roof Access Hatches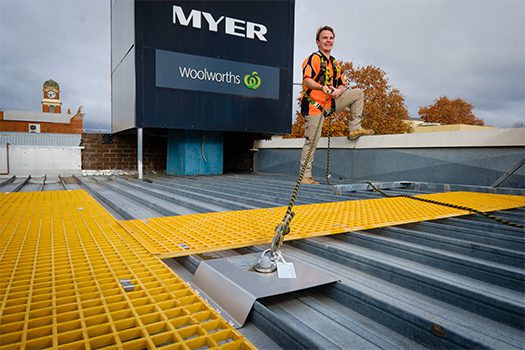 Roof Anchor Points
Permanent Roof Guardrail Systems
Skylight Protection
Static Line Systems
Stepladders & Stairs