As the solar industry hits an all- time high, so does the risk of falls but as the industry grows so does the technology along with it. The solar industry has made many advancements to not only the look and effectiveness of the solar panels but where they can be installed. One advancement that excites Anchor Safe the most is the introduction of "Floatovoltaics" in other words the floating solar panels.
Anchor Safe were thrilled to hear that the very first privately owned floating solar system has been installed in Australia by FloatPac this year. Floating solar farms eliminate the risk of working at heights altogether and can generate huge amounts of electricity without using valuable land, whilst minimizing evaporation from water storage areas.
In saying this, it does not mean the risk associated with installing solar panels disappears. The majority of solar energy users do not have a spare lake or dam to use instead of installing the solar panels on their roof, therefore there is still incidents occurring and a lack of awareness around the risk associated with Working at Height.
SafeWork NSW recently released an Incident report where a young worker fell more than three meters from a roof while installing solar panels, reminding businesses of their duty to identify hazards, manage the risks and control the working environment.
Key considerations for building owners, PCBU'S and facility managers with solar panels installed
Does the layout of your solar panels take into consideration the need for safe access to them when the need for ongoing maintenance occurs?
If your solar panels have been installed within an unsafe distance from the fall edge, it is a requirement to have permanent fall preventive measures in place such as guardrails  or Static Line Systems
What safety systems are in place to facilitate regular maintenance? Your solar panels will need regular maintenance, meaning workers are more frequently on your roof, and it is your duty of care to provide a safe working environment.  Installing walkway systems and guardrail systems will not only protect workers from hazards such as skylights but will preserve the integrity of your roof sheets and membranes from damage in high traffic areas.
Are your solar panels installed near skylights? Working around skylights that aren't protected is extremely dangerous, your solar panels should be installed away from the hazards such as skylights, however if there isn't the option and skylights are in close proximity to the solar panels, a Fall protection system  would be required which may involve skylight mesh, raised skylight protectors or guardrails.
Is there a roof access and safe path to access the solar panels? With the installation of solar panels all over the roof this increases the necessity to access the roof and when on the roof decreases the walking area and forces workers to find their own path across the roof, with less room to negotiate the hazards increases the risk of a fall.  A safe roof access such as a fixed access ladder combined with a walkway system, to ensure those that access the roof are protected from falls from heights is a must.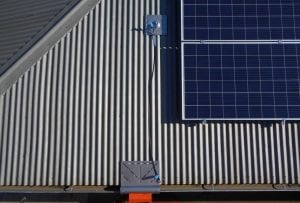 Reasons why SafeWork are making noise about the safety around the installation of solar panels:
More workers are on the roof more often
Solar panels on the roof introduces more trip hazards
Solar panels take up a lot of space on the roof, decreased the walking area around hazards
Solar panels are being installed to close to fall edges and other fall hazards such as skylights
Lack of training and working at height experience is putting workers at risk
To support installers in managing the risks and hazards during solar panel installation, the NSW Government have released a video outlining some basic preventive measures that can be actioned to reduce the risk of falls.
Have a read of our similar articles below for further information